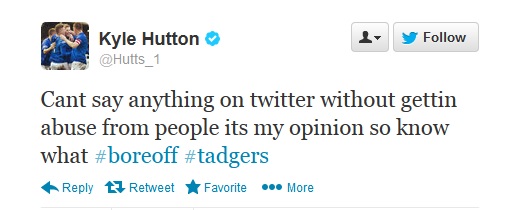 With the advent of the Internet
in the late 90s, the world has become a smaller place. The ability to bring
together strangers from distant lands is just one of the many extraordinary
properties online and while Facebook is widely regarded as a way of organising
your existing friends (and family),
Twitter is perceived as a way of meeting new
ones. A second quality Twitter is known for is its remarkable ability to
connect famous people with their fans. A celebrity can now directly talk to a
devotee and quite literally make their day with a retweet, a favourite or a
direct reply.
It stands to reason then that
famous people from all walks of life might wish to employ this technique of
engaging with those who look up to them, and subsequently this includes footballers.
Wayne Rooney, Cristiano Ronaldo, Rio Ferdinand and Sergio Aguero are just 4 of
the many famous players who have an official Twitter account, and naturally a
significant number of Rangers players are on the site too.
Lee McCulloch, Ross Perry, Barrie
McKay, Lewis MacLeod and David Templeton are only 5 of the Ibrox men to have
Twitter accounts and thus be able to communicate directly with Rangers
supporters from the safety of their iPhones.
This is all seems fantastic on
the surface. Fans are now able to directly chat with the captain or star
striker Andy Little and get just a small insight about what they might be
thinking. No longer do supporters need to wait for ages outside Ibrox to maybe
get an autograph or photo – a quick tweet in the direction of the Bill Struth
Main Stand and bears have a distinct chance of becoming a permanent reference
on players' Twitter accounts.
Sadly, it is anything but a
perfect situation. For all the good that the likes of Jig, Little, McKay and
Templeton have done in relating directly to fans, there has been the poor
conduct from Kyle Hutton, Darren Cole, and Ross Perry. These players are being
examined in ways they never used to be, and some simply collapse under the
scrutiny.
Let us look at both sides of the
coin.
Lee McCulloch's tireless work on
Twitter with not only replying to fans, not only retweeting them and promoting
their articles and blogs but actually following them too so they are able to
directly private message him is truly inspirational. He has not quite got round
to yours truly yet but there is still time! That said the point stands; Jig has
embraced social media like a true representative of the club, with regular
integration with supporters, organisations affiliated with the club and fan
blogs.
Then you have Ross Perry. The
Ibrox defender's displays on the pitch have been sub-standard to say the least,
and a recent tweet whereby he appeared to show off his two large TV sets thus
rubbing supporters' noses in how much he was earning despite currently being
injured was ill-advised to say the least. He could get away with it had his
displays been good enough, but they have been some way off.
On the counter, we have Barrie
McKay. Dignified behaviour at all times on his Twitter account – despite being shoved
to the fringes of the team for no good reason – the Rangers youngster has
showed maturity on the site. Retweeting fans, blogs, and generally keeping his
head down; McKay would have been justified in criticising McCoist's refusal to
start him any more. But he has maintained his dignity throughout and has not
used Twitter in a malevolent fashion.
And then we come to midfielder
Kyle Hutton
, who has done the exact opposite and worse. His conduct on Twitter
has been anything but acceptable – from publicly slagging off his manager for
not selecting him, to bragging about easy training sessions and lazing around
at home, to constantly tweeting about 'Nando's' and Starbucks, his behaviour on the site has
been diabolical and prompted the Union Bears' banner of 'Less Tweeting More
Training'. Hutton also has a very poor attitude on the site and recently
blocked all fans who dared criticise his conduct. He has also been known to insult those who have different opinions: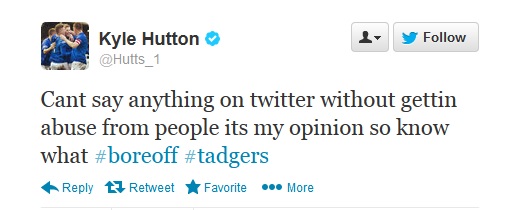 Abuse is naturally not acceptable but Hutton is well-known for blocking opinions he simply disagrees with.
It really is not the kind of
action we want to see our players take. And again, like Perry, his displays
have not provided him with a get-out clause.
On the more positive side is
Lewis MacLeod. Not quite as prolific a tweeter perhaps as some of the others,
he has nonetheless used the site in a productive way – retweets and replies in
particular. Only 19, again he has shown similar maturity to his colleague McKay
and has kept his head down.
Then we have
Darren Cole
. Another
involved in the 'Nando-gate' shambles, the youngster joined in with
Hutton regarding bragging over his easy life:
Cole then went a little further
and advertised his need to get in shape for his holiday. That is perfectly
reasonable. Problem is he is out injured and his first priority should be getting in shape for opportunities to 'tan' opposition strikers of the ball, not his own skin.
From the above examples it is a
mixed bag. Some Rangers players like Andy Little, Lee McCulloch and Barrie
McKay have embraced social media and Twitter as a way of connecting directly to
fans and literally making their day with a retweet or reply. Others like
Hutton, Cole and Perry have been poor.
A site like Twitter has given
fans insight into the workings of the minds of those they never thought they
would ever engage with. It is a unique opportunity which many have grasped with
both hands and used responsibly, and well. Unfortunately the flip side of the
coin is it has exposed some ugly personalities which would have been better off
remaining hidden from public view.
No Joey Barton, I do not mean
you.