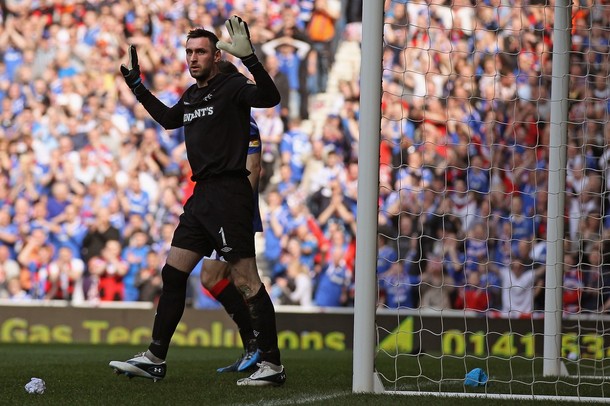 It has been a quite tumultuous period at Ibrox, with administration's grip tightening ever-further and no apparent end in sight. The league has now been formally wrapped up by our bitter rivals, and the one piece of distinct good news in Govan has been offset by the counter-news which could render it pointless. The good news is Steven Naismith seems to have returned to full training, and may well feature before this term is out. The bad news is West Bromwich Albion are circling like vultures for his services. And should the number 14 leave, he might not be the only departure this summer.
This slightly longer blog than normal will take a look at the players who are vulnerable to the leeching of other clubs this summer, and who might be less liable to this. Given the financial predicament Rangers are currently suffering it is entirely speculation, but given player values and abilities, it is worth posturing some of the more significant names at the club.
Allan McGregor. This has not been the best season for Scotland's number one, who is reportedly the highest-paid player at Ibrox. His shot-stopping has been patchier than normal, and he appears to have been affected by the off-field chaos. As many will testify, as much as strikers desperately thrive on confidence, so do goalkeepers. It is a psychologically demanding position, and recent chaos around the club has not benefitted McGregor, who, as one of the top earners, has had to tolerate a 75% wage cut. While no concrete offer has ever been reported for his signature, there is every possibility that a lower EPL team may wish to snap him up at a cut-price while offering him the sort of wages he normally expects. His current value is debatable – on top form he could be valued at £6M+ but this season he has failed to reach that. Mark Hateley has also raised a valid point in the past that McGregor has never been snapped up by big English clubs due to his height – this may or may not be true but there is no denying McGregor is not the tallest of goalkeepers so maybe this has deterred other clubs. Also in Rangers' favour is his own public support of the club – following 2010/2011's championship win, he wanted nothing more than to put pen to paper to sign on longer. Hopefully that desire remains.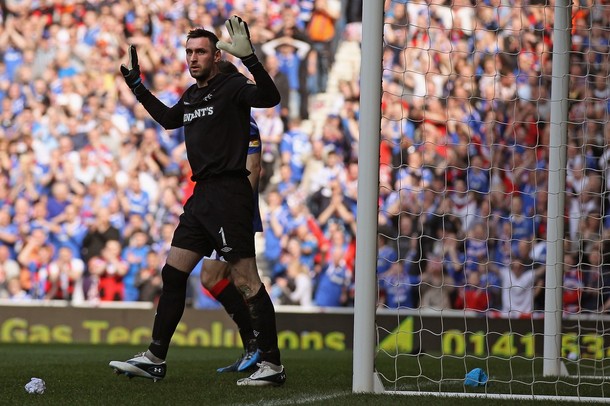 McGregor during the recent Old Firm match.
Steven Davis. The captain had a promising start to the season, but the injury to Naismith saw his own form dip, and he has been hot and cold ever since. Another of the top earners, Davis is relatively familiar to English sides having plied his trade with Aston Villa and Fulham, but since joining Rangers, similarly to McGregor, there has been no concrete bid received, merely speculation. Of course the club's plight may make clubs interested in a cheap deal for a relatively young midfielder (turned 27 in January), with the same carrot of higher wages. As such possibly some lower EPL team may swoop, but the chances of Davis leaving are not huge.
Steven Naismith. Roy Hodgson's West Bromwich Albion have reportedly made bids, something the manager has not denied:
"That might be so. It's not really my department, it's sporting director Dan Ashworth you'd have to ask about that."
The speculated fee was around £2M, considerably less than the players' worth and Naismith is extremely vulnerable now that West Brom have made a move. Based on his early-season displays, his value may have scaled to £8M+, but with administration and his own injury, the club might be willing to let him leave for a vastly reduced fee. The two considerations here are the player's own desire to leave, and given his media sound-bites, those desires, if they exist, are well-hidden, and the potential for a bidding war now one club has made a move. Naismith is clearly the club's biggest asset, and while it was believed his injury protected Rangers from suitors, now his fit-again status has attracted courters. The club will do very well to retain Naismith.
The Naismith we remember – scoring against Celtic.
Steven Whittaker. Subject to a derisory £450,000 bid from Bursaspor which scaled eventually to around £1M, Whittaker was the centre of speculation at the start of Ally McCoist's reign due to said bid, and the contractual negotiations with Rangers which procrastinated extensively. Eventually he became one of the top paid players at the club, valued highly by McCoist for his versatility. He is yet another to have his wages sliced way down, and there is every reason to suggest if a bid was received for him, given the history which surrounds him, that the club would accept it.
Maurice Edu. After a sticky start, the American found his feet and has had a pretty reasonable season at Ibrox. He was also the object of affection from several French clubs including, Sochaux, Auxerre, Marseille, and Bordeaux. The former did bid several times, from £500,000 up to the region of around a million, but the former Toronto FC man stayed put. Due to his age (25), his athleticism and his caps for the USA, Edu is definitely a prime target this summer. There would be no shock if a French club, particularly Sochaux, returned to the bidding table.
Carlos Bocanegra. The 32 year-old has been a truly excellent signing, with very few off-games. With over a hundred caps for his country, he is most definitely an asset due to his maturity and experience with time in the USA, England, and France to include on his CV. Quite happy at his previous club Saint-Etienne, it is debatable how loyal to Rangers he feels despite his slightly over-the-top claim that Rangers are globally as appealing as Manchester United. His words generally have been of the positive variety, but if a European club saw Rangers' plight and the fact that such a player has had to suffer a wage cut, a low-price bid might just see Rangers letting him go. Indeed, the whole administration process has been tough on him:
"There is so much in the papers about who is going to take over it does my head in."
Maybe he would welcome a departure from the stress of it all.
Dorin Goian. The Romanian had a rip-roaring start to life in Glasgow, and certainly came with a quality pedigree, having amassed over 40 caps for his country of Romania, and experience of the tough league that is Italy's Serie A. He became something of a cult-hero among the supporters, but in the past 4 or 5 months has not sparkled at the back like he previously did, suffering a touch of inconsistency. Aged 31 now, his agent has reportedly been in talks with clubs in Germany and Turkey over a move away, but the Romanian has equally been impressed with life in Glasgow and the club's supporters, seemingly rejecting a move to China. He has stated his contentment at Ibrox and how, like the other players, he wants an end to the takeover saga. It is difficult even to speculate on his future.
Typical Goian – big personality – but will it keep him at Ibrox?
Kyle Lafferty. Something of a 'village idiot' reputation has followed the Ulsterman since joining Rangers. Prone to the odd gaffe now and then, not to mention ill-advised performances in the media, Lafferty's initial detractors have by and large been won over by his performances since last season's split. His inconsistencies have been woven out his game and he has been regarded as a big player. Indeed, following that season speculation linked him with a move to West Ham for £2M. Surely worth more than this, Lafferty is regarded as an asset, if maybe not quite as highly viewed as the Naismith's and Davises by some. But like many in the Rangers squad, he is a Rangers fan, and has never spoken of wanting away. He is a player Rangers would do well to retain, and chances are slightly above even that the club can do so.
Sasa Papac. A consistent performer, the first portion of this season saw the Bosnian scale his displays in the presence of new-signing Lee Wallace, and produce arguably his best football since joining in 2006. 32 now, Papac has nigh-on never been linked with a move away, and was reportedly one of the top earners before the wage cut. The Bosnian has made his money in football, and while his recent displays have not been of the best variety, unless he is released by the club, Papac is almost a certainty to remain.
Lee Wallace. The left back-cum left winger was an unglamorous signing last summer by McCoist, albeit the most outlay was splashed out on his signature. A pretty good capture, the Scottish international has received minimal criticism for his performances, but it is unlikely his value has changed any from the £1.5M paid for him. He is another who, bar the club letting him go, will probably remain.
Lee McCulloch. The big-hearted Scot has gained something akin to 'legendary' status for his 'play for free' gesture which endeared him greatly to supporters. His performances this season have been adequate, and his utility nature has allowed McCoist to deploy him as striker in recent games. The near 34-year old has been a loyal servant to Rangers since joining in 2007, and while often not being a fans' favourite, his commitment to the team has been undeniable. At his age he is almost certain to remain at the club, and given his willingness to play for nothing, there is no reason for the club to let him leave. Although it is unlikely any bids would ever be received either.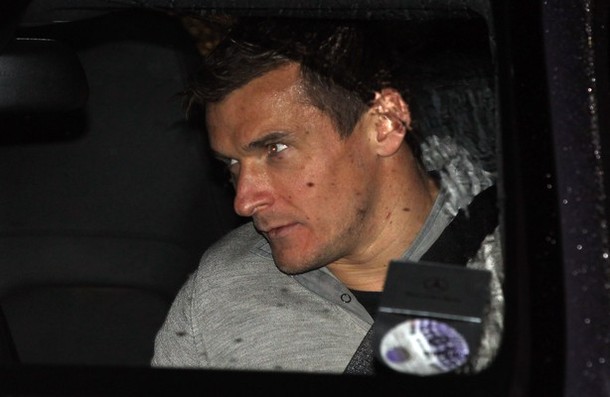 McCulloch leaving Murray Park – feeling the strain like all the supporters.
Sone Aluko. While not able to reverse the bleeding suffered by Naismith's injury, Aluko's signing has been nonetheless a breath of fresh air, and the Nigerian international has shown some truly outstanding skill since signing for Rangers. His performance in the recent Old Firm derby was stunning, including a quite Messi-like goal. He is an undeniable asset, and Spanish side Rayo Vallecano have been in contact with his agent regarding a move. Under normal circumstances the winger would have substantial worth, but these are not substantial circumstances, and predators would be delighted to pick up his services at a minimal cost. The player himself has been non-committal about his future, which is perfectly fair. Much rather they say little than swear allegiance before departing in the next window. When asked about the situation, the 23-year old said:
"We'll see what happens next. There are a lot of things going on at the club but it will get to the point where I will sit down with them and take it from there. It is not something I am looking at right now. I am concentrating on playing and winning games for Rangers and carrying on my good form. That is my only focus just now. We are all dependant on the situation and what happens, so once the club figures out what the next step is I will decide as well."
Perfectly mature and sensible comments to make.
Given the squad size, it would take an essay Tolstoy would be proud of to go through every player. I have focused on the main protagonists of the tale, the most significant players at the club. I am sure I have forgotten a name or two. Of course, this entire piece may become a lot less relevant should a takeover be secured and new owners are able to inject cash into the club, raising wages back to what they should be. But this is completely up in the air.
As Sone Aluko puts it: "We'll see what happens next."