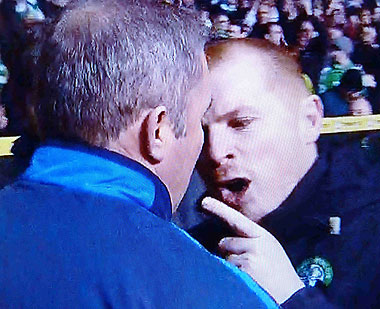 There have been contrasting fortunes both on and off the pitch for the Old Firm this season, never more so than with one half being in administration, while the other made a small profit, albeit a massively reduced one based on the second half of last year. That all said, one of the most obvious contrasts between Rangers and Celtic has been the conduct of their respective managers. One has encapsulated the very epitome of dignity, while the other has carried himself with a quite embarrassing level of ignominy.
The curious element is, based on their clubs' performances, it would be rational to expect the club beset by administration to be the employer of the manager whose behaviour has left a lot to be desired, but that has not been the case. This blog will examine the respective performances this season of both Rangers manager Ally McCoist, and Celtic boss Neil Lennon.
The first concept to clarify is this is not a tactics and managerial head-to-head; it focuses explicitly on their performances in the media, their conduct pitch-side, and their general demeanour.
Let us start with their press displays. The first aspect to arise is that this comparison was ignited thanks to the 'Old Firm Shame Game' of the 2nd of March 2011 at Celtic Park in a Scottish Cup replay. The home side prevailed 1-0 but it was the sideline shenanigans which saw both clubs clash spectacularly, and in particular, an incident where Rangers' then-assistant manager McCoist found himself in a conflict with Lennon after the full-time whistle was blown. The two initially shook hands, but Lennon held the back of McCoist's head then pointed aggressively at him while saying something, then appeared to push him before others intervened. It would be absolute conjecture to speculate on the nature of this exchange, but it sparked said overall comparison between the two ever since.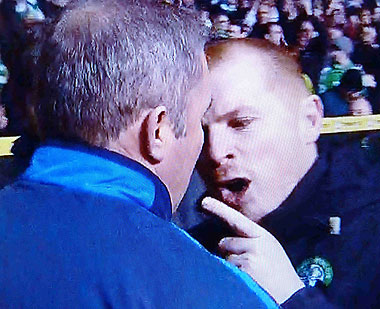 McCoist and Lennon clash at the 'shame game'.
Only two days later, an astoundingly unsavoury incident followed the aforementioned 'shame game' where two individuals of dubious state of mind felt the urge to send a pseudo-parcel bomb to Lennon at Parkhead. Lennon is an antagonistic individual, who has not carried himself conservatively throughout his career, but there is no excuse for this act of wanton violence, and those responsible were recently convicted. This does not reflect directly on the contrast of McCoist and Lennon, but it is worth considering it to whatever end.
So then, to contrast their displays, we can focus on numerous incidents of relevance, starting with Lennon's recent 3 star performance. That is, his repeated offences against the laws of the game within around a week, where on 3 occasions he managed to incur the wrath of the Scottish game's governing body.
The first saw his post-match description of Willie Collum's 'criminal' decision to deny Celtic a penalty when Stokes took a fall in the box during the Co-Op Insurance Cup final against Kilmarnock. In light of Motherwell manager Stuart McCall's one-match ban for similarly critical comments aimed at a referee, such a comment was incredibly ill-advised. Whether Stokes dived or was genuinely upended is not relevant – a manager calling a refereeing display 'criminal' shows a scant regard for courtesy or respect.
We can now look at how McCoist handled the same situation. Questioned by ESPN's Darryl Currie at half time during the Motherwell match, after Sone Aluko had been incorrectly booked for diving by referee Iain Brines, McCoist said he was not overly sure about the decision, but maybe the referee had got it right. Clearly he knew it was an error, as everyone else did, but one of the differences between McCoist and Lennon is a respect for the officials who have a hard enough job as it is. McCoist also praised Brines for allowing him to come discuss the matter with him after the match in a civil manner. There is an unquestionable difference between both managers already.
Referee Brines who has personally witnessed the very contrast in OF managers this article discusses.
Lennon also got into hot bother, again relating to besmirching referees when he referred to Sunday's match with St Johnstone: "maybe have a decent refereeing performance into the bargain". SFA Compliance Officer Vince Lunny wrote to him asking for an explanation regarding his comments, as he did (belatedly) regarding the Cup final too. Contrast this with McCoist's after-match comments about Brines display: "My argument was that I thought it was a penalty. I can understand the penalty decision because sometimes referees give them and sometimes they don't." No hint of smearing the referee's display, just a dignified disagreement and acknowledgement of how difficult the ref's job is.
The final incident to display the contrast between the two managers was the glorious Old Firm victory. Far from impressed by either his side's display or decisions going against them, Lennon found himself sent from the technical area, a managerial red card if you like, for comments he apparently made to Iain Brines, who was fourth official during the clash. Managerial assistants Johan Mjallby and Alan Thompson took the reins for the rest of the game while their boss was banished elsewhere.
Now we focus on McCoist. After his side's superb display, he stood in the tunnel and shook the hand of every Celtic player as they left the pitch. After all the controversy, he rose above the recent nonsense and gained the praise, in particular, of Sky Sports commentators Ian Crocker and Davie Provan who gushed about it and described it as a wonderful image for Scottish football. Compare this with recent El-Classicos in Spain where both sides have ended up in running battles pitch-side with each other.
So far I will admit a bias on my part – to highlight the dignity of Ally McCoist and the crass behaviour of Neil Lennon. I have, in the interest of fairness, however, researched for occasions of the opposite. Frankly, my search proved fairly fruitless but I did discover McCoist is not perfect – his criticism of the SFA panel who upheld Aluko's 2 match ban for diving was aggressive and frank, and he clearly felt very strongly in contest of it:
"The three gentlemen on the panel have effectively called my player a cheat and a liar, neither of which he is. What they've effectively done is they have said the player has cheated to get the penalty. It's an absolutely incredible decision given that the referee is literally five yards from the incident. He has a better view than anybody in the stadium and they have gone not only against the referee but the player as well."
Very strong words there.
And yes, I also found something fairly dignified from Lennon regarding Ally's plight of administration at Rangers.
"I have sympathy for my counterpart Ally for what he is going through at the minute. I wouldn't like to have gone through that myself, particularly in my first season as manager."
Unfortunately the rest of his comments suggested the above was delivered with a forked tongue.
"If people want to point the finger if – and it's a big if – we win the title then I will have plenty to say about devaluing titles, don't worry about that. If you break the rules you get punished for it, regardless of whether it's Rangers or anyone else."
So much for the dignity.
While this season has been a quite abysmal array of horror and emotional turmoil, the one thing Rangers have shown, in their manager especially, has been dignity, while on the other side of Glasgow their manager seems more content with antagonising as many people as he can.
They may be champions elect, but I know who I would rather have as manager.