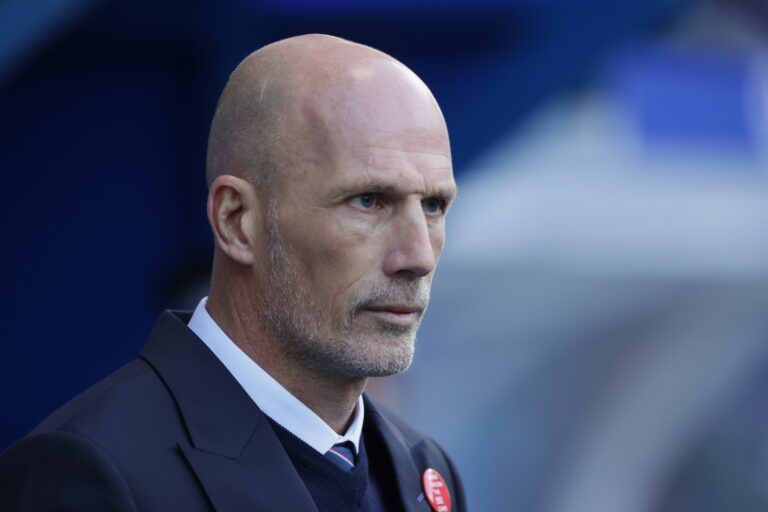 A lot is being made about Philippe Clement apparently 'going mental' with Cyriel Dessers in the 90th minute, with a tonne of press quoting commentator Michael Stewart and his observations over the Rangers boss:
But if you watch the incident back, Dessers does actually press quite clearly to begin with, chasing vividly, then the ball gets dribbled away from defence, beyond the striker, before coming back on the opposite side far from Dessers, who doesn't have any real chance of getting there.
Clement is very, very animated and gesturing towards Dessers, looking very mildly frustrating as the camera pans in close.
So what was going on here?
We're not sure we agree with Stewart – because Dessers clearly IS pressing, there is no laziness from the Nigeria international, unless you count his 'giving up' when the ball is hoofed forward from the back, so what was the gesturing?
We think that rather than not pressing, Dessers might simply not have been quite doing what his manager wanted, which would be in-house instructions us mortals aren't privy to.
We aren't convinced it's a lack of pressing and work, but what does it definitely tell us?
That this manager will not stand for nonsense, that he is a perfectionist, that he has a system that he wants absolutely adhered to, and maybe in that moment in time, the striker wasn't quite compos mentis with it.
Fans love Clement, he is a serious football manager, and he knows what he is doing. What that is, exactly, us mortal supporters aren't to know, but it clearly works, and Dessers may just have strayed from whatever his directions were.
Clement won't stand for that, if you don't do what he wants, you won't survive.
Even if it's the 90th minute and the match is won.