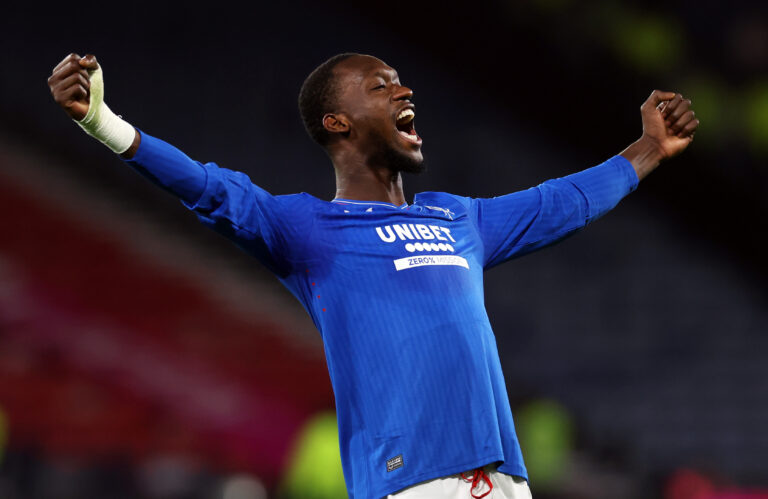 Rangers managed a massive cup semi-final win after a slightly slow start at Hampden, and Ibrox Noise brings you our ratings on yet another massive victory for Philippe Clement:
Butland:
Once again wasn't really called into any major saves bar a very shrewd one from Stephen Kingsley, but showed his usual composure. He is a top stopper for this club and very much in the mould of McGregor and Goram. He's really that good. 9
Tavernier:
It's hard to be critical of a man who smashed a penalty and scored a staggering free kick. Tavernier was a little loose in the first half defensively, being exposed a couple of times, but thereafter was big in what he had to do and deservedly got the acclaim of fans when subbed. 9
Goldson:
A couple of good blocks and decent reading but also guilty of a little bit of complacent communication and sedentary movement defensively. But a lot of excellent out balls from deep opened up Hearts' left and overall he didn't do a lot wrong. 7
Balogun:
He's a class above. We're hoping his injury isn't serious because until he was withdrawn, he bossed proceedings. Only one 50/50 sprint with Vargas actually saw the Costa Rican get any joy, but unfortunately he was a big loss after half time. 8
Barisic:
Actually a real weak link. His crossing was pathetic, and he offered nothing but unimaginative attempts from the left and passes back. We hope Clement looked at this and realised Barisic's mind is elsewhere. 5
Lundstram:
Big. Showed again he has pace, dominated the middle, and wasn't scared to dig in. This is the Best On Earth Lunny and he was strong. He will be delighted with his display. 8
Jack:
Heavily involved and very lively. No coincidence Tav has his best matches when Jack is playing – the Scotland international is mobile and covers so much grass. 7
Sima:
Excellent. Was getting in so many runs behind, with Goldson spotting his sprints regularly. He caused danger and he's actually looking a composed and polished player. Dynamic and incredibly improved. 8
Lammers:
Didn't hide but unfortunately wasn't really able to put any of his work into good product. He is effort but little quality. Sadly didn't impact in the way he did at Dens. 6
Cantwell:
Confession: we knew Clement had this selection wrong, putting Cantwell on the right. It's why we assumed he'd go with Wright in our prediction XI. Cantwell wasn't good – he's been off-colour most of the season and this was the same. He's just not producing what he did last season and was rightly hooked. 5
Danilo:
His finishing was mostly profligate but no denying he's getting way better at reading our game. Lots of good chances but just wasn't his day for burying them, but got a big assist. 7
Subs:
Wright:
We were harsh on him v Dundee, but he must be one of the most improved players at Ibrox at the moment. His finish was outstanding and he added the balance we thought he would have from the start. 8
Davies:
Him v Balogun is cotton v silk. Clement had no choice but Davies let him down with a horrible penalty based on carelessness and generally just didn't have anything like the quality or authority of the Nigerian. 5
The rest of the subs were just for minutes, match was won by then.
Manager:
Clement did not pick the best XI here, Ibrox Noise privately had huge concerns about the balance of the front three, wondering why no place for Wright, plus we'd preferred Ridvan. But the boss fixed the lot at half time after an ok first half but one which wasn't convincing. Whatever he sorted at the turnover changed the picture completely (including removing the ineffectual Cantwell), and that's why he's boss. To read what's not working and fix it. He did that impeccably. 8