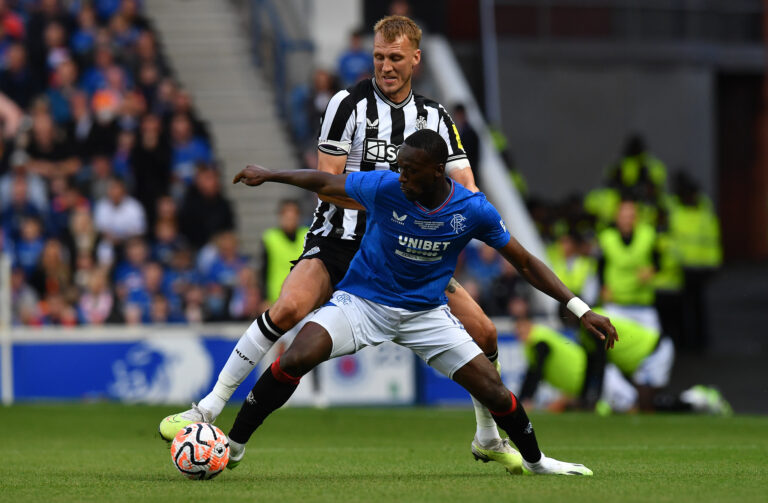 In the second part of our early season striker review, we look at the next one Michael Beale brought in, name Senegal's Abdallah Sima.
Here's another forward we warned against signing – a journeyman player who hadn't succeeded at a single club since Slavia Praha.
The saving grace of this one is it's a loan, so the risk is lower, but it doesn't alter that there was nothing in Sima's CV which warranted promise.
His senior career indeed started in Czechia with Praha, and his first season was more than ok – playing as a right winger he managed 16 goals and 6 assists in 33. Sound familiar?
But that was it, that was where he divebombed. That got him his big move to Brighton for £11M where he absolutely crashed – he never made a single appearance, with Brighton realising quickly they'd made a massive blunder – a very well-run club indeed, and this guy was a big blunder.
He immediately went out to Stoke in the championship and made only 4 senior appearances for them, before they returned to sender as quick as possible and gave him back to Brighton, who quickly shoved him out to France where he did mediocre for a relegation team. 6 goals, 2 assists in 37 appearances at Angers. Not exactly wunderkid material.
And that was it, that was his career before Rangers took him on his latest loan.
Sima's a fail. We'll be blunt.
The boy has zero composure on the ball, and let's not let one madly brilliant goal skew this otherwise, he's an absolute cowdung of a player. He can't run with the ball without either tripping up or being tackled, he cannot beat a man, his passing is utterly mince, and the one thing he has is the 'mischief' factor.
He can be used as a runner, purely for the havoc it creates. It worked v PSV first leg, which remains his one single good night, and even then he was having a mare until he actually scored.
We've rarely seen a less competent forward at SPL Rangers level than this boy, and he's League One level in England no more. Praha did a number on Brighton getting £11M out of them, and it's clear Sima is woefully out of his depth either at Rangers, or in the Premier League.
This one was a diabolical signing and the first real evidence Michael Beale didn't have a clue who or what he was bringing in.