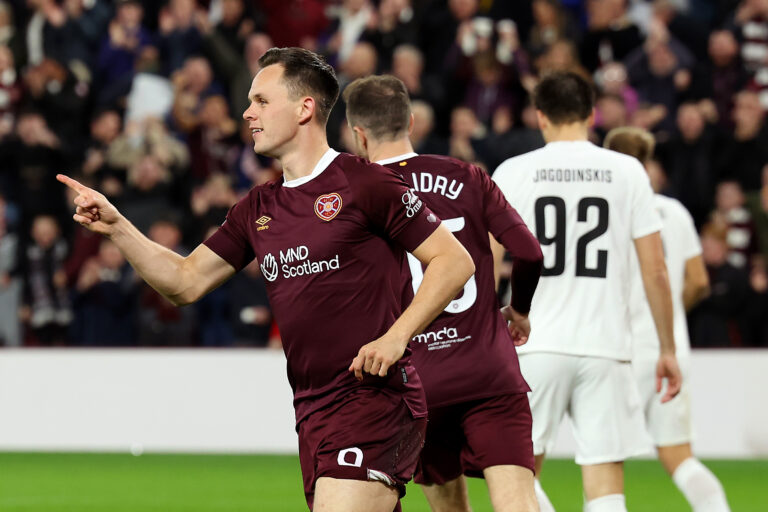 Rangers have made an approach to sign Hearts striker Lawrence Shankland, according to the well-respected Fourth Official Twitter account.
Ibrox Noise reported many weeks ago that Shankland was one Rangers were and should be looking at, and the Fourth Official suggests an official approach has been made to Hearts following the sacking of Robbie Neilson at Tynecastle.
Is he one we want? 100% absolutely – we should have signed him years ago, but it didn't work out and the club didn't make the approach.
Is Lawrence Shankland good enough 'to replace Alfredo Morelos'?
Well, which one of them has more goals and assists? Here's a clue, it's not Morelos. Which one of them has more goals in Europe this season? Another clue, it's not the Colombian.
For all that many Rangers fans dismiss Shankland, his record this season is better than any of our strikers with 22 goals and 4 assists in all competitions. His detractors point at the penalties, and there have been a few, but remind us again of how penalties are less valid goals?
Shankland is a Scotland international and he has three European goals this season, which is more than can be said for Morelos. Is he a better player than Morelos?
If Lawrence Shankland was called Lawreto Shanka and was doing this in Finland, Rangers fans would be screaming sign him immediately. But for some, because he's Scottish and doing this in the domestic league, he's not up to it.
There's also the 'he's too similar to Colak'. Well, in fact he has no similarities to Colak at all aside scoring goals – he can compliment what we have, rather than being a replacement.
There is the issue of cost. Shankland will be around £5M – and many Rangers fans would fume at that amount being spent on a player they don't rate.
But end of the day the club doesn't care what the fans think anyway, so why start now, and if the scouts and Michael Beale consider Shankland a worthwhile addition and have the funds to sign him this summer, we're all for it.
We'll see how this one pans out.