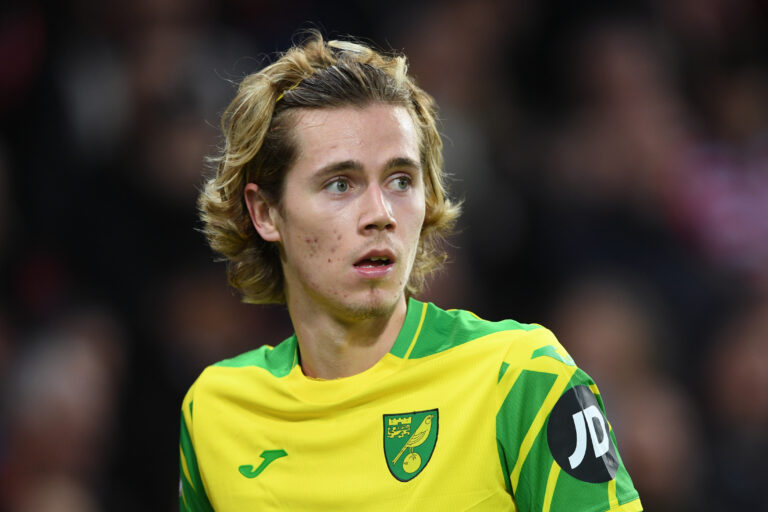 Rangers are closing in on the club's first signing of the January window after Todd Cantwell was said to be undergoing a medical in Glasgow, according to sources.
The 24-year old midfielder, with a market value of around £10M, will not be renewing his contract at Carrow Road with Norwich, and instead is interested in the switch to Rangers, having been reduced to a bit-part player under coach David Wagner.
Reports online from respected Norwich sources suggest Cantwell's time at Norwich hasn't quite worked out, and that there is a '£30M player in there' and they were sorry to see him go but it was best for all parties.
In short terms, this is the calibre of player Rangers should be looking at – Cantwell 3 or 4 years ago is where Billy Gilmour is now – a player with all the talent in the world but who it just isn't quite clicking for and needs the right club at the right time.
Rangers manager Michael Beale knows Cantwell well, having faced him many times as Liverpool U23 coach, and he's completely up for this addition:
"Todd was an excellent player when he was young and playing against my Liverpool Under-23s. I thought he would go on and have a fantastic career. He had that at the start and he is maybe just looking for a move to re-ignite it but I think he is a fantastic player at a good age."
Cantwell is experienced at Premier League level too, and is a very coveted precontract, but the stories that he'll come to Rangers now suggest Wagner is just letting him go for a modest cost given he's down to the last 6 months.
Is he a good addition? Sometimes players just aren't in favour under certain coaches, and that's the case with Cantwell under Wagner, who replaced Daniel Farke.
He's a good age, and has all the potential in the world. It's the kind of quality Rangers need, so this is a signing we're happy with.
Hopefully Rangers get this one over the line and we see the midfielder in the blue soon.