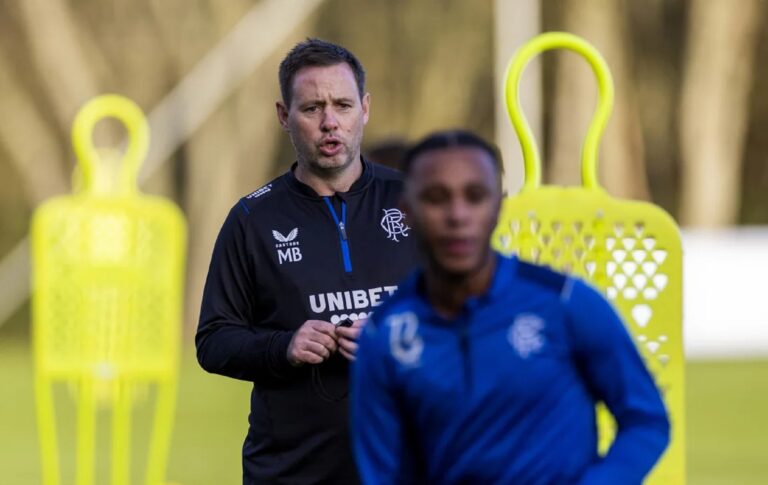 Rangers begin life under Michael Beale today in his first 'test' as boss when German giants Bayer Leverkusen come to Ibrox, but who will the manager select as his maiden XI and what may have changed since the prediction we made on Ibrox Noise some days ago?
Not a lot, in truth.
From what we can see, he remains defender-less. Just Tavernier, King, Sands and Devine with backup options of Ryan Jack and John Lundstram. We really are scraping the barrel there.
In midfield Glen Kamara's presence will be telling – with hype over an £8M bid from Nantes coming in, he's already unsettled enough as it is, and we're not sure his head will remotely be in this. Steven Davis, Jack, and Lundstram all remain fit and available along with young McCann.
In attacking midfield/wings, the options remain plentiful. Kent, Wright, Roofe, Lowry, Tillman, Arfield, and Matondo make up the possibilities for the manager while striker is as always down to Colak and Morelos, with newly-promoted Zak Lovelace among the numbers.
So who do we think?
In goal we'd love to see Robby McCrorie, but all bets are off as to who Beale will pick:
McGregor; Tavernier, King, Sands, Devine; Lundstram, Jack, Arfield; Kent, Morelos, Matondo.
Yes, a bit of a stab in the dark there, but it is only a friendly and doesn't really matter for anything other than fitness and morale. A hungry performance is needed, even though Leverkusen are very likely to score more than one. We can accept being beaten as long as the side puts in the shift for the new manager. But it would be nice if we can score one or two as well.
That said, it may also be a dress rehearsal for Hibs, which is the one that really matters. Beale needs to get his plan in place by the time we face the Easter Road side, because that's the one he'll be getting judged on, despite the fact he has no defenders.
Just like his predecessor.
Rangers fans and Ibrox expects the earth moon and stars, as, in fairness, we always do.