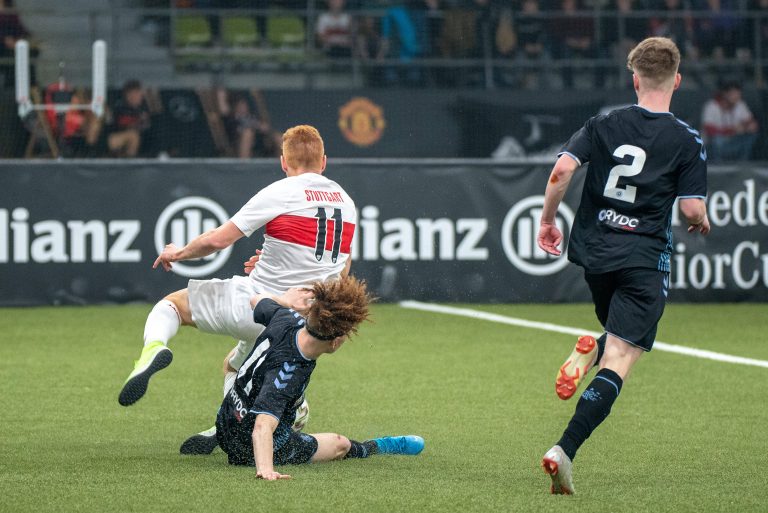 Nathan Young-Coombes, at just 18, is very much a man. The former Rangers attacking midfielder never made the grade at Ibrox, and on switching to Brentford B recently confirmed that the move has been in the works for 'just under a year' now.
Why do we say a man? Remember the scrawny 'Sideshow Bob' kid who impressed us all so much in the youth tournaments for Rangers?
He looks nothing like that now, and has grown absolutely up both physically and mentally.
Speaking to his new side's media, NYC joined Brentford B because of the quality the youth program has produced – he isn't wrong, some top class players have come through; Ivan Toney, Neal Maupay, Said Benrahma, Ollie Watkins – Benrahma of course went to West Ham for £20M and clearly Brentford's system works.
NYC wants to achieve the same, and that lad with all the talent when he was about 15 and came to Ibrox as a 'replacement' for Billy Gilmour has now got maturity physically and mentality to go with it.
Will he make the grade at Griffin Park? Will NYC be a PL player?
We couldn't tell you – it's such a shame it couldn't work out at Rangers. We know the main reason he wanted to return to London was simple homesickness, which does happen occasionally in football.
But he couldn't have been more supportive and warm about his time at Ibrox. 'Home away from home' NYC calls it, and he did effective grow from boy to man here in Glasgow.
It was just unfortunately for one reason or other NYC wasn't destined to break through at Ibrox.
Is it the youth policy? Was it other reasons? We'll never know.
But arguably our loss is Brentford, and in time, potentially the PL's gain.
We'll see if NYC is another Benrahma in time, and we wish him luck in his quest to be the player he believes he can be.