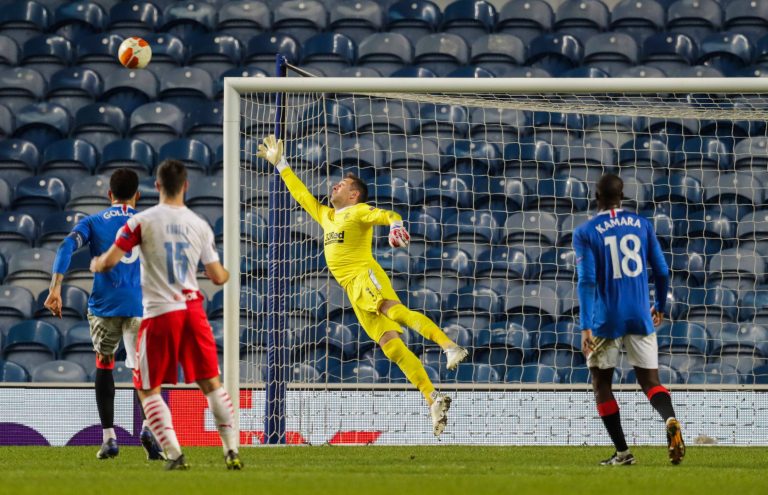 We're going to do something remarkable in this piece – move away from the furore of the match's controversies and look at why Rangers lost.
Now, the big thing to remember is Slavia are absolutely no better than the likes of Liege, Poznan, and Porto, all of whom we've put to the sword this season or last, but in truth they beat us with room to spare.
Moving away from the cynical stuff, what was the problem in these two legs?
Looking at the first leg, it was clear the players' heads were still drunk on 55. They didn't get going till the back of the second half, and even then, in a creative sense, only Joe Aribo actually stood out.
This accounts for a tonne of the performance that night, but despite it, we still got a priceless away goal.
But last night?
Sadly last night was a failure on every single level, from management, to player.
For Stevie's part, dropping Helander was simply a mistake. Wrong. Inexplicable. Balogun struggled, and his plight cost us a man in the end. Shaking up a performing defence was a bizarre error from the boss.
Secondly, why put Arfield on, match rusty, in an unfavoured position? This was probably the worst Scott Arfield has ever played for the club – he looked completely lost, gave the ball away a lot, and just didn't have a good night at all. He came in kind of from the cold, in the wrong position, and it was another error.
Thirdly, why put Joe Aribo wide right? In such bright form, he'd been the biggest threat in the first leg, but was made impotent on the right. He cannot play there, simple as.
Fourthly, why no Hagi? He was a bright spark in the first leg, and has the creativity and fitness that right now Scotty Arfield doesn't.
But then there's the players – there was just no cohesion, no flow, and for whatever reason, they just couldn't get into the groove, and allowed Slavia to bully them.
It's been said Stevie was outfoxed by Slavia boss Jindřich Tripišovský, and there's an element of that. His players were extremely well-drilled, they all worked colossally hard, and much harder than Rangers.
They pressed constantly, never let up, and Stevie's own high-pressing game at this level was completely missing.
And then you have the canniness. Praha quickly realised Kent was a major danger man, and got the order on to foul him, but to ensure different men were taking him down to avoid bookings. It was a cunning tactic, and it stopped Kent doing any major damage.
As for the rest? Prague were constantly forcing Rangers off the ball, bullying, and while the referee was abysmal, Rangers were weak by comparison. We allowed this team to play the game they wanted, and we failed to settle, playing our game in response.
While the cynical and cheating side of this team was clearly in evidence and a big factor, they also beat us all ends up all over the park as well. Even McGregor had a bad night, with the opening goal being easier to stop than his miracle save last week.
In the big picture, it doesn't matter too much – we got 55 and we matched last year's European heroics.
Can't help feeling the groundwork was there for Rangers to get to the quarters though, and this was a bit of a missed opportunity.
But we have CL next season, and maybe we'll 'do a Porto'?
Onwards and upwards.