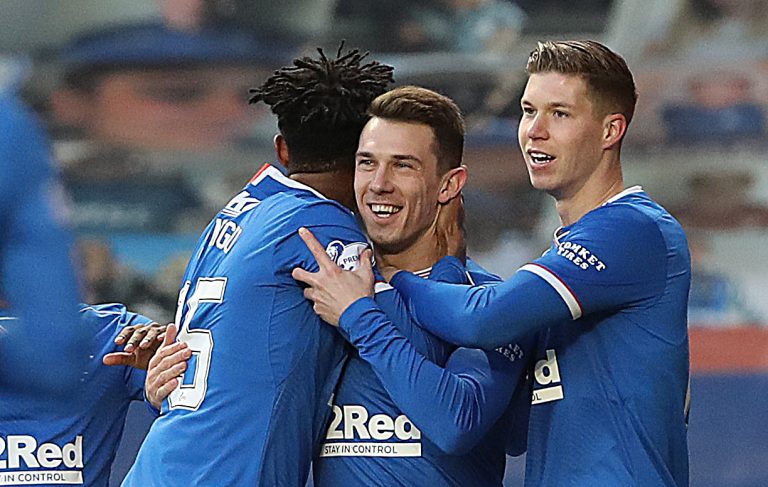 Twenty Three points clear….OK can I say it again, TWENTY THREE POINTS CLEAR!
It's marvelous to see Celtic so far back in the rear view mirror, a sight that took 9 long years, and we Gers have every right to sit back and enjoy it. And god am I enjoying it!
Yes last month was a bit slow, but with no winter break to trip us up, we finally took full advantage of the second Old Firm win of the season.
Since then Celtic have imploded, and we have been relentless.
OK, it's true Celtic might get their act together later in the year, but NL has already proven he is unable to take this group of players and turn them into a team.
What we are seeing is Neil Lennon's Hibs, with slightly better players.
A team that is good enough to be a mid-table Premier league team, and the rest of the Premiership know it and they smell their fear.
In fact, it's possible that Celtic might finish third or I hope fourth…and that means they will have to fight through the Europa League qualifiers next year.
King was right when he said Celtic's collapse would be spectacular, and it's just brilliant to watch.
But we cannot be complacent. Unbelievably happy, yep, but not complacent.
Last year we went from unbeatable to poor and predictable in just two weeks, and we all know we dropped a gazillion points.
So, a collapse is always possible, but the entire team now knows Gerrard will yank them off the park if they don't give him everything.
It is also important to keep using these games as practice for the tough games we will soon face in Europe.
Because Rangers target is no longer just to win the Scottish Premier, every single year.
Our sight is on a European title.
In all my years, I have never felt so confident about Rangers in Europe.
In just three years we have went from fearing everyone, to bossing games against teams from the best leagues in Europe.
It's now only a matter of time till 55, and the scary thing is every single year we just keep getting better.
And that is what is really scaring the brown stuff out of those in the green and white, and the entire Portuguese league, and half the teams in Belgium and The Netherlands.
Enjoy it, because I think we are truly watching the start of something really special.