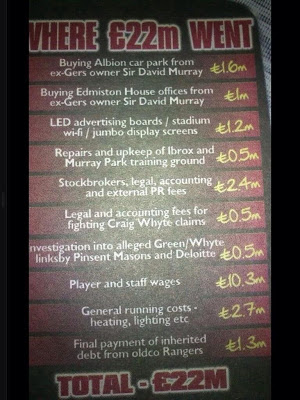 After a fine victory over Brechin
Rovers (detailed in my previous entry) plus the hilarity of an 'AskNaismith'
hashtag on Twitter which was entirely hijacked by Rangers fans slating their
former hero, one could have been forgiven for thinking the mood among fans had
lifted considerably following a horrendous 8 days.
With an excellent 4-1 result
inspired by Nicky Law on Saturday plus aforementioned amusement of said
ill-conceived Q&A with the Toffees' 'finest', it seemed like a certain
level of 'normality' had tentatively returned and fans could finally get on
with the important business of supporting the team on the pitch.
Unfortunately it seems a sizeable
chunk of fans have resumed perpetuating the divide which is now becoming real,
despite the fact it is based on hot air. It has grown from 'Walter Smith V
Charles Green' to quite simply 'Rangers V Charles Green'.
With anti-Green chants quite
audible at Ibrox, it seems a proportion of fans have decided, regardless of
what facts they are presented with, that Charles Green is now Rangers' nemesis
and must be booted out of the club at all costs. The myth of Green's
malevolence is growing by the day, and after he led a consortium which saved
this club from dribbling out of existence, somehow he has been demoted to some
kind of fiendish crook intent on destroying Rangers at all costs.
Quite honestly this anti-Green
tirade is now utterly tiresome. Before I go on, as I have said before I am not
'pro-Green'. Indeed, my fellow bear Locutus59's entry here summed it up quite
well; no one involved with the current running of the club or projected
takeovers comes out smelling anything like roses. Charles Green, Craig Mather,
Walter Smith, Brian Stockbridge, Jim McColl and Paul Murray have each behaved
poorly to varying degrees.
For some reason, however, Charles
Green has been picked as the ultimate 'baddie' despite the fact he has carried
out no sinister act upon Rangers fans or their club whatsoever. Yes, he has
been guilty of a big mouth and bluster, and can be guilty of playing to the
galleries. We know this. That said, no one can tangibly name a single genuinely
malevolent act he has carried out on this club. He has not broken the law, he
has not stolen from the club, and his regime in general has done relatively well
under quite appalling circumstances to keep the club afloat.
A breakdown of the cash used
during the time from the IPO onwards reveals the following: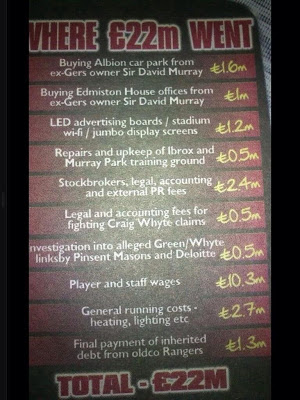 Now, call me absolutely crazy but
is that not the day-to-day running of a club the size of Rangers? Some fans
appear aghast at the costs here and are crying foul murder but it strikes me
they are oblivious to how much it costs to run, maintain and fund a club the
size of Rangers. I warned prior to the third division that the reduction of
income Rangers would suffer in that league would hit hard. Now supporters are
disgusted at 'how much we are spending'. The problem is an institute Rangers'
size cannot spend less. The only way to reduce the overheads is by lowering the
ambitions on the players Rangers sign. And sadly, realistically, Rangers
supporters will not generally tolerate a bunch of small-time signings (with all
due respect to them) from an SFL side.
In order to keep the supporters
of Rangers FC happy the club had to sign players of a quality we cannot
actually afford. Green's comments about how he would not have signed these
players if he was in charge is half realism and half false. Realistically he is
spot on – we cannot afford them. But logically Rangers supporters, whether we
like it or not, want shiny signings and not underwhelming ones.
So looking at the rest of the
costs they seem completely acceptable for a club of this size.
And yet, some fans want to use
the fact £22M has been spent as ammo against the regime and Charles Green in
particular. Bar the players/wages, what costs there can realistically be
reduced and keep the club running to the level the fans expect?
I include myself in the
complaints over the RTV service at times – we want it running impeccably and
with no gremlins. Problem is that level of smoothness costs. Clubs in lower
divisions do not have their own TV station. We do. Because we are Rangers. We
cost more. It really is that simple.
I will not lie and say the club
is running impeccably; it is not. But it strikes me if it was as bad as some
fans believe and Green was the monster he is being portrayed as then he would
have taken the club to the cleaners' long ago and the regime would have led to
the demise of Rangers. Well over a year after Green's consortium invested, and
we are still here.
The major issues with our
finances come simply from no CL cash, no SPL prize money (it never was given
was it), vastly reduced TV cash due to the new deal the SPFL created at the
start of last season, and generally reduced income – we charge less for season
tickets now. And yet our costs, bar player transfer fees and to an extent
wages, have not actually reduced in conjunction with this. Of course they have
not.
But, let us just blame Charles
Green and his consortium until they quit, new men take over, and we start
blaming them for our problems instead.
(They'll just blame their
predecessors you know)