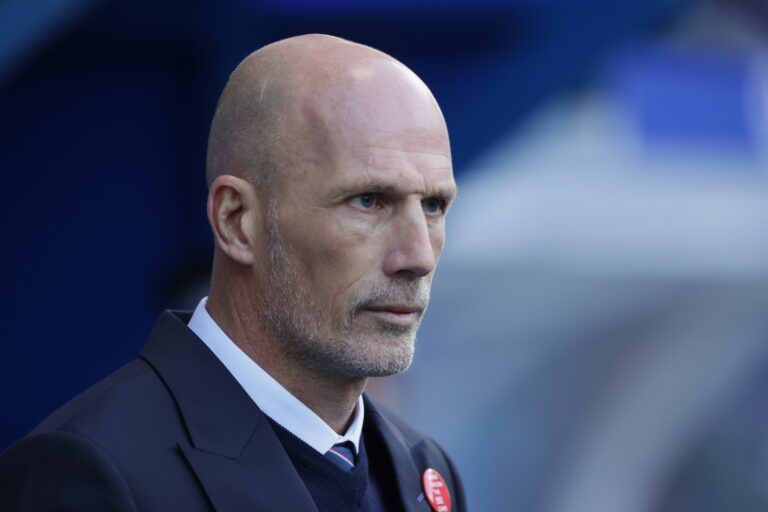 If Philippe Clement can do that with a ramshackle squad in barely two days, Rangers fans are in for an absolute treat.
Let's make no bones about it, that was the best debut from a Rangers manager since Walter Smith returned in 2007, with the great man dispatching Dundee Utd 5-0.
Clement's Rangers was a completely different animal to the shambles that had been 'operating' under the previous 'manager', and in one 90-minute period we saw organisation, drive, cohesion, and a clear system which made sense.
While the stats claim the formation was a 4-2-3-1, it also adapted frequently to a 4-4-2 with Lammers level with Dessers as Wright sat right and Sima sat left.
We have absolutely no idea what the former boss was even trying to do with this club, but in this ambitious appointment, Philippe Clement simplified everything, had everyone doing a clear job, and showing just why the guy has won 3 league titles in 3 years with two different clubs in Belgium.
There is no denying Clement's CV is excellent – but managing or joining Rangers is a whole different animal to anything anyone has ever experienced before, and we're absolutely loving how PC is taking to it like a duck to water this well.
Many will make an argument that 'it's only one game' – yes it is, but anyone who couldn't see the structures, systems, coherence and clear organisation of how this match was systematically set up and controlled to a regimented and obvious style had their eyes closed.
That the foundations we wanted to see, the potential – it was there in abundance as Rangers controlled and dictated the match.
Every Rangers fan is happy tonight – this really was a clinical and impressive showing from a man who's only had 48 hours with the team.
Some might say it's new manager bounce, and that is absolutely part of it. New manager bounce often sees the players working hard to impress and show the effort.
It doesn't usually, however, see the clarity of instruction, system, formation and gameplan so obvious from the first match where each player completely knows their role and follows it well. Very… Walter-esque, frankly.
The biggest clue here was James Tavernier. Ibrox Noise's 'favourite'. We've give him torrents of criticism, and we stand by every historical word, but look at the difference in him when he doesn't have a 'pal' manager, but a real one – one who manages him like a footballer and not like a privilege.
He defended, he showed discipline, he got forward in good spells and he rarely left his rearguard exposed. It was actually Ridvan who did let his guard down once or twice, coming off the bench from the cold as he did.
But Tav kept to the basics, and he added balance and width while keeping the backdoor shut.
And this shows that Clement really is able to get a silk purse from a sow's ear.
A lot of jokes are being made about the boss's comments about 'not being a magician' – well, on this evidence, we're pretty sure a rabbit is hiding in a hat somewhere.
There is a long way to go, but quality is quality whether it's one match or one year into a tenure.
And Clement's ability has shone through inside only 48 hours.
Future might just be a bit brighter than we feared.