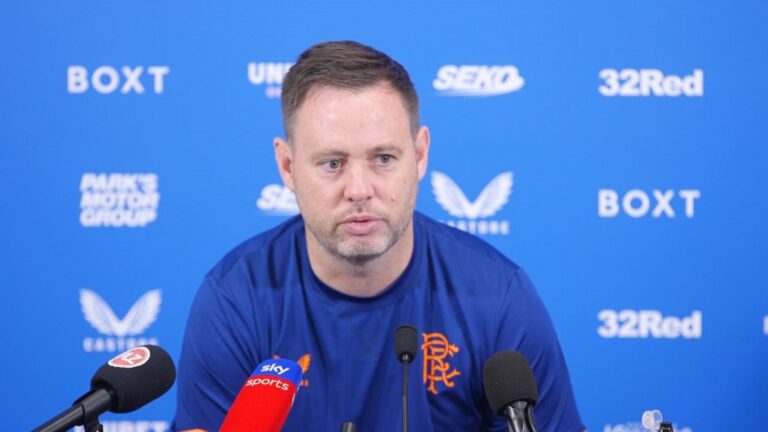 Michael Beale has sent out another worrying message to Rangers fans after failing to acknowledge the 'must win' nature of the football club he is at, while borderline dismissing the idea.
Speaking at his pre-Saints press conference, the Govan boss was asked if he believed his team could 'afford another slip up' and his answer was about as out of touch as anything he's ever said since joining Rangers last November.
He said:
Where do we even begin with this?
First of all, he might have been taking it on the chin right after Celtic and holding some accountability for his own part in the disastrous result, but this shows a massive delegation of responsibility to the players since then, as if his own tactics and instruction now have had nothing to do with the failures on pitch. He also went further and blamed that result in today's conference on the disallowed goal. Embarrassing.
Secondly? Rather than answering that every match was must-win and slip ups could be ill-afforded at a club the size and gravity of Rangers, he only 'thinks' that the team needs to show 'stronger performances'.
So, he reckons rather than 'we can't afford to slip up' it's ok to water down the importance of Rangers winning matches by saying he thinks they just need 'stronger performances'.
This is pure evasion, avoiding the question and diluting how important it is at Rangers to win football matches.
No, Michael, we cannot afford another slip up, and you well know it, and you should have had the Rangers cajónes to say it too. We admit it, we want to back our manager and give him the support he needs to manage our club, but Michael Beale is doing everything he can to frustrate fans and quite simply annoy us.
We're not like other supporter groups or 'official partners' who will be cautious and try to be supportive come what may – Ibrox Noise is vocal if there's something we don't like, and we make it clear. For better or for worse.
And Beale continues to absolutely screw up every single thing he does.
He's not making it easy to like him at all right now.