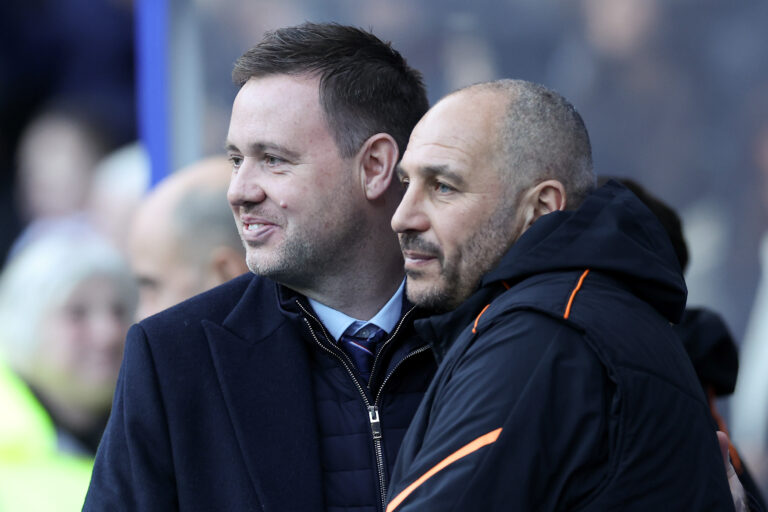 If one pattern of massive, literally, change is starting to become noticeable with Michael Beale's Rangers reshape, it's that Rangers' boss has noted very much what Martin O'Neill did in 2000 to usurp a dominant Rangers and is replicating that model:
He's building big.
If we remember back to those distant days of the past, Celtic's ex-boss brought in a bunch of giants:
Hartson, Sutton, Balde, Valgaeren, Mjallby – these were the main core of his team, and they absolutely bullied Rangers – Dick Advocaat's technically-superior side was left floundering by the big strong Celtic team MON made back then, and the league changed hands pretty quick.
Beale is doing the same.
Butland is a massive hike over Allan McGregor weighing in at 6ft 5 for starters, and then we have:
Sterling, 6ft 1.
Souttar, 6ft 1.
Lammers, 6ft 3.
Sima, 6ft 2
Dessers, 6ft 1
Rangers are going for big strong lads at long, long, LONG last who can play football. Who won't be bullied like the weaklings Rangers have been for way too long, and can hold their own on the pitch physically.
For way too long Rangers have been filled with short weak players – Kent, Morelos, even Ryan Jack were and aren't exactly colossal tubthumbers. We can certainly include the meek Ben Davies in this.
But replacing them with Sima, Lammers, and Sterling while also having big guys still at the club like Connor Goldson and John Souttar is absolutely much better, and how Beale is clearly learning what we need to be to move forward.
The pathetic weakness of Rangers in recent years has seen our team bullied by all opponents as well Celtic, and it was high time we brought power in. Proper power.
Of course, we still have a few wee guys in there too – Ridvan and Raskin being obvious examples, and not all the other players will be 8ft armour-plated killing machines, but the point is clear.
Michael Beale has earmarked height as a huge weakness in our side, and is 'massively' addressing it.