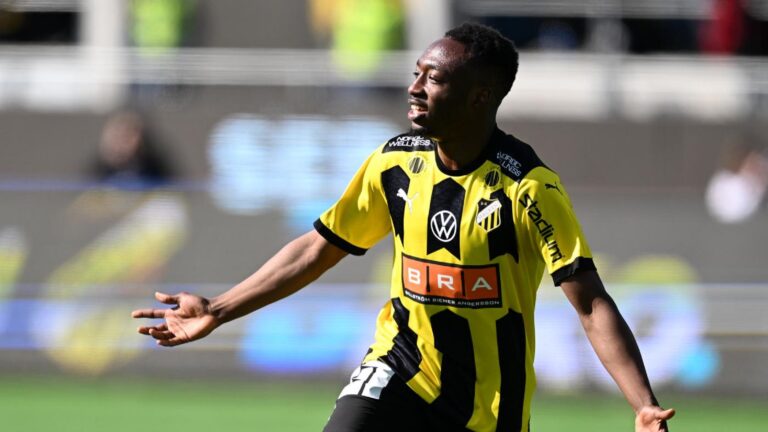 Rangers are this morning reported to have had a bid rejected for Bénie Traoré, the 20-year-old Häcken striker tearing Sweden up with a record the envy of strikers everywhere.
Ok, the Swedish top flight isn't quite the Premier League, ok it's quite a bit short of that, but everyone has to start somewhere and for a young player of such relative inexperience his return is spectacular.
19 matches, 15 goals and 5 assists is staggering and puts ex-Rangers striker Alfredo Morelos' record in Finland to absolute shame, and that was the one we were all excited for back in 2017.
With clubs like Malmo… well actually aside the former greatness of Gothenburg Malmo are about the only side of note in the Allsvenskan, so while it's an adequate league it's well below Scotland, which is saying a lot.
In fact, Scotland are now the 9th best league in Europe (yes really) while Sweden languishes down in 23rd. So it's hard to take too seriously achievements at that level.
Nevertheless, the boy is a player, with an international cap for the Ivory Coast already and he's ready for the next level, which could be Rangers. He's heavily under contract, tied to Sweden till 2026, so it'll cost a fair few quid for Rangers to free him from his current club, and of course with his numbers, Rangers aren't the only side interested.
Celtic, naturally, have their eye on him, while Sheffield United are also keeping tabs on him – so there's definitely competition here for a lad who's got a lot of eyes on him. With that record it's not surprising.
While his market value is regarded as around £1M, he will cost a lot more due to his record and his contract, and Rangers would be looking at at least about £4M to prise him away – the rejected bid was said to be around £3M.
But if United are genuinely interested then they have all the carrots with the Premier League, and higher wages we'd imagine.
We'll see if Rangers take their interest any further forward.