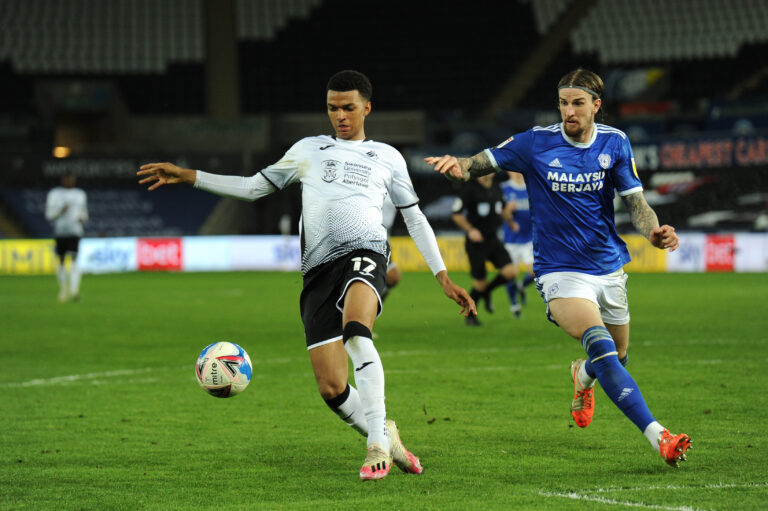 Russell Martin has made an about-turn on Morgan Whittaker after previously assuring the press he was to be part of today's Swansea's squad to face Michael Beale's old side Queen's Park Rangers.
The winger, 22, is NOT part of the squad to face the Loftus Road side, nearly entirely confirming he is on his way out, and is likely to join up with Rangers if a fee can be agreed.
Rangers are said to have bid around £1.5M and had it turned down – we cannot verify that figure, but Swansea aren't going to let a promising talent like Whittaker leave for pennies so Rangers may have to go for around £2M if a deal is to be done, which, if the case, means the Ibrox board will have sanctioned around £4M this window which is an all-time record for the club in January.
Of course, no money has yet been committed for any of the deals, Norwich only accepted Rangers' bid, it's not remunerated yet, and it's a stab in the dark as to what the accepted number is, but we can take an educated guess that it's around £2M as well given Carrow Road rejected £1.5M from Blackburn.
But it's Whittaker's absence from the squad today which definitely suggests things are happening with regards to a move out and to Rangers, and the sooner that happens the better.
Is he the answer? He's promising and he's a good age, but we won't make any assumptions following the abject fail that was a £3M investment in Wales' Rabbie Matondo, so we presume nothing – but he is clearly a right winger and being signed in hope that he can be the one at long last who does what Amad Diallo and Matondo could not – thrive on that side.
As for now, negotiations are ongoing, and he's pretty much finished at Swansea it seems. It would appear just a matter of time before he's secured as a Rangers player, but don't count your chickens just yet, because sure things have a habit of going pear shaped as far as Rangers are concerned in the window these days…