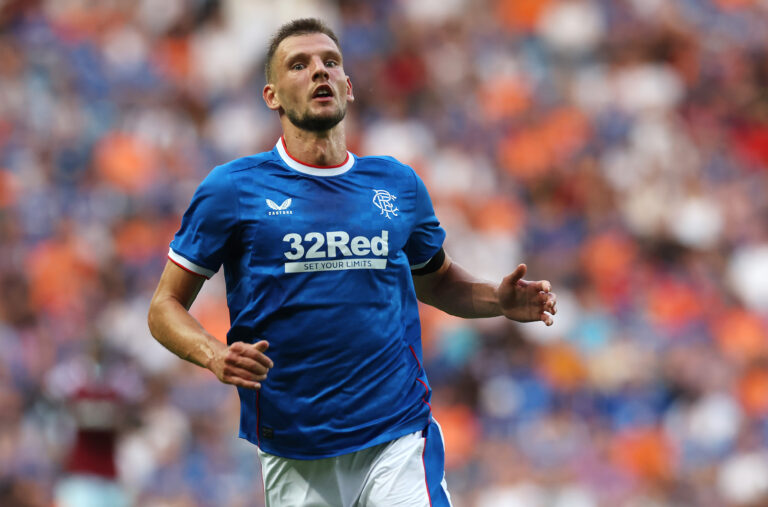 We spoke yesterday on Ibrox Noise about the so-called Rangers 'horseshoe'. This was something former manager Giovanni van Bronckhorst was accused of at Feyenoord, and it may well explain heavily the abuse Borna Barisic took, and why it wasn't the Croat's fault at all.
Picture the scene. Barisic, to Sands, to King, to Tavernier, back to King, to Sands and then Barisic.
What does that create in your head… a horseshoe. Gio was heavily accused in the Dutch press of creating this with his defence, fullbacks who passed back inside to their partner centre back, who shovelled it along to the counterpart on the other side.
Is it any wonder Barisic was being called 'backwards' when that was what his manager was clearly telling him to do?
'Keep the zero' was Gio's motto, and in doing so, he sacrificed attacking flair. He was more comfortable with his defenders keeping the ball to themselves and away from opponents than he actually was attacking them – Celtic, famously, attack attack attack and overload opponents, strangling them at source with sheer volume of movement and numbers.
Gio's Rangers? Back back back. This became a thing in the summer, when it really started going south for him, but it brings more than a spot of context to why Barisic became so negative. Tavernier had a bit more licence to attack, after all, that's all he knows to do in football, but Barisic was contained completely and totally restricted, and was frequently going back the way.
Which clearly was his manager's instruction.
And it made the horseshoe.
As we told you, Giovanni was accused by Dutch media of this:
That's Johan Brinkel, and if Gio was doing this after they won the title, he was doing it at Ibrox after Sevilla.
And that's why Borna Barisic was unfairly slated by Rangers fans.
He was only following orders.