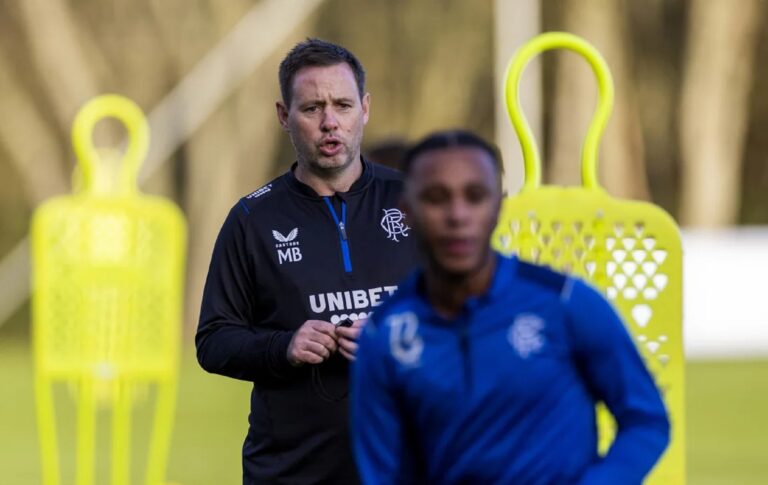 Michael Beale has already spoken extensively to the press, speaking to Sky Sports, the in-house channel Rangers TV and the Herald, but Ibrox Noise has not listened too much to what the new boss has to say.
The reason is simple – we watched the first training session, and liked what we saw, but given past history for b*llsh*t press performances we're frankly not that interested any more in what Rangers' manager, whoever he may be, says.
We remember back to when Steven Gerrard was first made manager – he swore blind that players had to have hunger or he'd drop them ruthlessly. Few managers then had the 'clique' more than Gerrard, the pals act. Sticking by his pals no matter how they played. His soundbites to the press were about 80% fabrication, for all the 'direct talking' he did he lied for the majority of it.
Warburton introduced '7-10 days', but Gerrard absolutely mastered it, and it was hard to trust a single word he said.
On the other hand Giovanni van Bronckhorst gave the press nothing, nothing they could hold against him as Rangers manager, true, but it meant fans and indeed press outlets, such as Rangers sources like ourselves, struggled to report on his words because they were vague, cryptic, and told us little. It meant we had to interpret things instead, which frequently left us open to attack because of the ambiguous nature of so much of what he uttered.
So with Beale? We already know he's not honest – he's spouted the same piffle about dumping Rangers players if they don't perform, and we already don't believe him because he was part of Gerrard's regime that said one thing and did another. He also lied to QPR, and completely betrayed them, something we're not going to defend him on. They hate him now.
So forgive us if we don't take too seriously anything Michael Beale (or any future Rangers manager) says about their intentions or the club, because talk is extremely cheap these days and worth little.
We completely back the man, 100%, as much as it sounds like we're slaughtering him, and we reckon he could be a great boss, but it doesn't mean we're going to take seriously what he says. We'll still report on it, he's Rangers manager and what he says has to be covered given that's what we do, but we're not going to take any of it at face value.
What matters is performances and results, these are what we want to see improvements on. He can lie all he likes to Rangers fans, we won't care as long as we're seeing the team winning.
It's a results-based business, you don't get points for honesty.