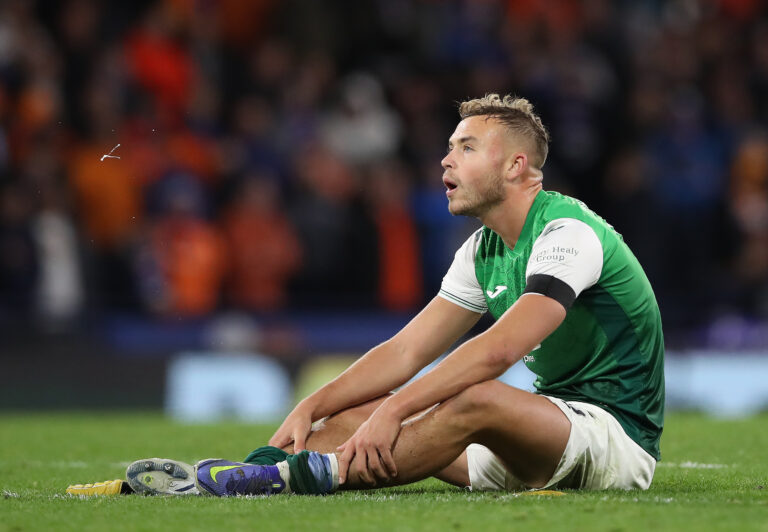 As Ibrox Noise suggested less than a week ago, our information is now that Ross Wilson is pursuing Ryan Porteous as a lucrative precontract in January, with new manager Michael Beale said to endorse such a signing.
The Scotland international is hardly flavour of the month with some Rangers fans, due to one or two ignominious run ins with the likes of Alfredo Morelos and the club as a whole in the past, and yet when Ibrox Noise put this kid to the support, once the initial outraged and fuming reaction calmed down, a lot of fans became vocally in favour of the addition.
Porteous is an excellent defender but with an immature attitude, but it would be far from the first time Rangers had signed a 'toxic' Hibernian player without any repercussions – Jason Cummings, anyone?
And tellingly, unless the club make the signing in January and have the stopper arrive in Govan at the turn of the year to a transfer fee, he will be a Bosman precontract and that cost is certainly favourable to Rangers indeed.
And we've spoken in depth about how we need a b*st*rd of a player, a Graeme Souness, a Terry Hurlock type who can rough up and 'Noise' up (see what we did there) the opponent like Porteous most certainly does.
Rangers' spine has been a bit weak for too long, with a lack of enforcers and hatchet men in the side, and there's no question Porteous would be perfect for that role – plus, unless you're blind, you'll acknowledge he can more than play a bit.
We'd favour this addition, and if Wilson and Beale are actively pursuing Porteous, it can't hurt. The fact is, even injury recovery notwithstanding, Rangers are desperately short on good defenders with the desperate situation under Giovanni van Bronckhorst in many ways costing him his job. He had just James Sands and Leon King by the end, and that is embarrassing.
Bringing Ryan Porteous in would be a good start under Michael Beale and give him precious options in defence which frankly we've not had the luxury of in a long time at Ibrox.