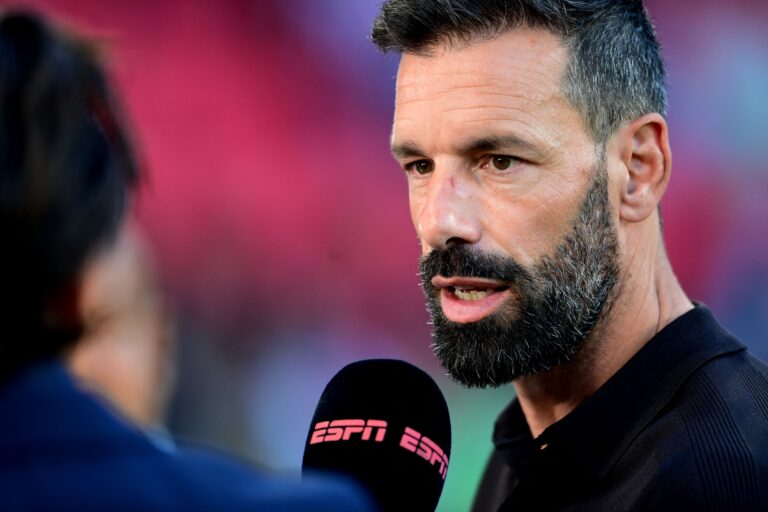 Tomorrow we play PSV, a team that Gio and Rangers know very well.
Overall there are going to be no surprises. In the previous round PSV played a flexible 4-3-3, with most of their attacks centered on movement along the wings. They deploy strong, robust players, who are all technically very good on the ball. Their passing is usually accurate, especially when their players are not being pressed by an opponent. They are also streetwise, In reviewing their last round, they only just managed to beat Monaco with a carefully timed push on a defender, just before they headed the ball over the line.
If we contrast PSV to USG, PSV play a far more open (read porous) game, and they are not as aggressive when it comes to the high press.
In attack they often play to the wings, with a few long balls played over the top to mix things up. Many of their attacks are also centered on the height of their front row. Their main striker is their captain, No. 9 Luuk de Jong, at 6' 2" tall. Thankfully, given how bad we currently are at handling high balls in our own box, his fellow striker, Brazilian Carlos Vinícius, who is 6' 3", is out injured.
As we have said many times, if we could play colossal Katic, the flying cannonball, in this team, this would not be a problem.
Intriguingly, PSV appear to have substantial difficulty in finding a reliable right winger (sound familiar?) who can command a position in the team.
They have three right wingers on their books, but PSV usually employ one of their attacking midfielders, Ismael Saibari (who is 6' 1") in this roll.
Then we have on the left wing 6. 2" Cody Gakpo, who though he is listed as a winger, he is no Ryan Kent. Cody usually relies on simple runs across the box and for goals he hits long range shots, and headers.
And this is where we see PSV may have a tactical problem. With PSV built to play the vertical game, it will be necessary to limit the number of set plays. And thankfully, this ties in perfectly with Rangers' recent emphasis on speed.
With PSV being aware of the speed contained in Rangers'-now very dangerous front line, I fully expect PSV will play a little bit deeper than usual, to provide their back line a bit more cover. This will limit the number of corners we have to face, and puts emphasis on us keeping play neat and tidy.
If we sit back, they will get free kicks in dangerous areas.
In this battle between speed and height, the way PSV usually play, which is more open than USG, is a weakness against top-level teams. In this case, the greater distance between the lines, will help especially Kent, Tillman and Matondo create havoc, and it will also hamper their ability to control Rangers in midfield. Especially if Arfield comes on as a substitute in the second half, his ability to drag defenders and midfielders all over the place will help create more space for Ryan Kent, who is usually double or triple-marked.
Another advantage helping Rangers is Rangers' years of practice against Scottish teams that park the bus. This allows us to take advantage of gaps that our opponents in Europe often miss.
At this point, our only weakness is the left side of our defense. However, now that our team has had a few more weeks to get to know each other, this weakness should (we hope) be fixed.
This is going to be a very interesting match with a lot on the line. On one side Scottish teams have a close to perfect record against PSV. A record that now stretches back over 40 years to 1978, a record that includes Rangers beating PSV three times (the other games were 2 draws and 1 loss), and intriguingly the remaining two games PSV have played against Scottish opponents were against….Dundee United, a team that has once again become famous in Europe.
And because the PSV team just saw how badly Dundee United played last week, my feeling is that humiliating 7-0 drubbing will make PSV very confident they can come to Rangers and get a result. An overconfidence that Rangers could take full advantage of.
Game on…