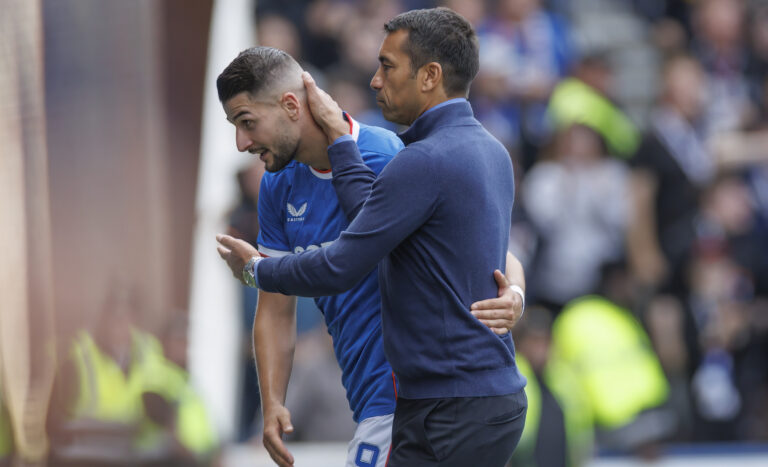 Rangers' season looks a wee bit better after an ultimately comfortable win over a massive bus.
Ibrox Noise brings you our ratings on a reasonable afternoon:
McLaughlin:
Had absolutely literally zero to do except a couple of claims and a bit of footwork. But did fail to read one cross and an easy goal was missed with a terrible finish. Lacks authority. 6
Tavernier:
Bright as always but does look like he's missing Jacko, Tav still bombing forward but a bit more vulnerable at the rear. Thankfully Killie offered little threat down that side anyway. 7
Goldson:
Nice shot in the second half but barely played as a defender at all. As we keep saying, very little attacking purpose from the visiting side made this one quiet for Goldson. 6
Sands:
Didn't do a lot wrong again, and we doubt the same criticism will come his way because we didn't concede. In fact a couple of interceptions plus the highest passing level in the whole team suggests he was an unfair scapegoat recently. 7
Yilmaz:
Looked nervous, shaky, and was rightly taken off. Showed signs of good link up with Colak when he saw a run no one else did, but defensively extremely poor and he'll be disappointed with his debut. But he'll get better. 5
Lundstram:
Strong and reliable from Lunny, not super flashy but a bit better than he's historically been next to Davo (these two don't work too well together) so he'll be glad his game complimented the NI star a little more. No one in the team did more defensively, he really plays for the shirt. 7
Davo:
This really puts into context excuses about players out for a while needing time to adapt and get up to speed – if 37-yo Davo was like a duck to water and as if he was never away, sorry, but others should hang their heads! Composed, smooth, and a massive hike over Jack and Kamara for sure, Davo may have played himself back into the side with such an impressive performance after being out in the cold so long. 8
Tillman:
Energy personified, really tried to make things happen, and while he's not as zippy as Ryan Kent, he was always available for a pass and his vision was outstanding. It's no shame on any player to struggle to get into Bayern's team, and Tillman showed he's a fine player when on form. 8
Wright:
He was causing real problems down the right – sure, he's just tap and run, but defenders hate it, and it draws foul after foul. He's a simple player, but he's got the stuff to hurt defences and he did it today. Can consider himself a little unfortunate to be removed. 7
Lawrence:
By a mile his best display in a competitive match – ok, he wasn't Kaka, but he got a lot of the ball and saw a lot of movement around him, picking out some good passes and trying to keep the play flowing. Much better from him and he assisted Colak too. 7
Colak:
Will be absolutely thrilled with his goal, took it well. He's been getting some flack for a lack of obvious striking threat, but anyone who knows a thing or two about the game knows he can play. He's a fine finisher and has outstanding movement. 8
Subs:
Scotty:
Usual energy, but a bit late to have any real impact on this one.
Barisic:
Responded to Yilmaz threat with a hungry cameo – worked hard to get forward and defended well too. He will want to show he's worthy. 6
Matondo:
Poor cameo. Offered absolutely nothing, one dribble was about it. He was sensational in the friendlies but has vanished in the competitive offerings. 5
Alfie:
He shoots he scores. The impact of Morelos was obvious. His cameo was outstanding and showed what Rangers have missed without him. Welcome back Alfie. 8
Manager:
Gio sprung a bit of a surprise selection in this one, dropping Kamara, Jack and Matondo among others, and sticking with the under-fire Sands and McLaughlin, and while the side took a while to prevail, it kept at it. Yes, the play was again a bit slow but the workrate was better – improvement is certainly needed but put it this way; Celtic could only win 2-0 on their opening day too, despite wasting chances. Killie parked the bus and we found a way. Gio will want better next week but this was still better than previous. 7