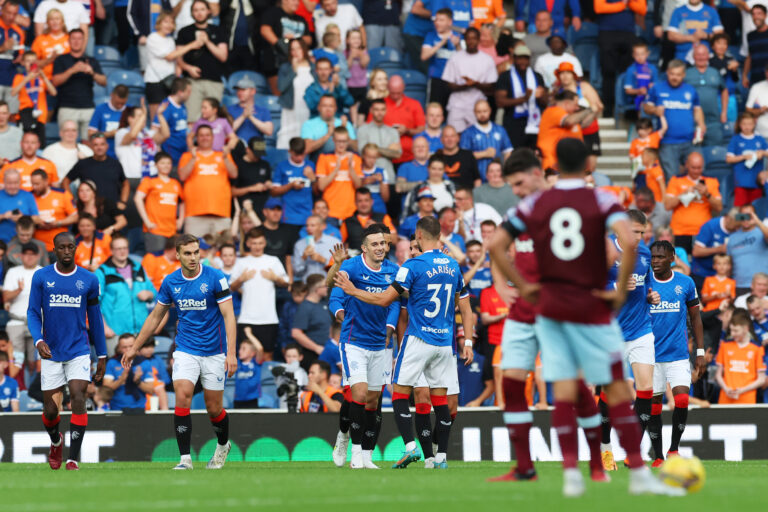 Rangers comfortably dispatched West Ham during easily Gio's men's most convincing performance and fitness display of preseason.
Ibrox Noise brings you our ratings for a pretty solid evening in Govan (We've really missed doing these):
McLaughlin:
Unconvincing all round, aside one good save where he made himself big, he mostly seemed unsure and didn't look comfortable at all. Made a hash of West Ham's goal and punching was weak. 5
Tavernier:
Showed plenty of gusto to get forward, and little was coming down his side in defence. Thrived after the introduction of Matondo. 7
Goldson:
A bit slow, a bit flaky with the ball, and then somehow managed to blame the pitch when he took his eye off the ball and missed his own touch. Wasn't severely tested but not his best evening in the shirt. 5
Souttar:
Looks well below match fitness and that's completely understandable. Rather exposed for that big first half chance for West Ham, but was quite vocal. He's getting fitness back so it's hard to judge him. 6
Barisic:
Strong performance from the Croat who made some neat defensive interventions and was confident going forward. Looked happier than we've seen him in a long time. 7
Kamara:
Slow, off the pace, and looked like he was somewhere else, if Kamara was trying to impress watching suitors he didn't do a good job of it. 5
Jack:
Hungry from Jack, and while he did get robbed once or twice by Rice, and isn't quite at full tilt yet, he showed enough gusto to demonstrate he's working hard on getting his old self back. 6
Lundstram:
Solid from Lunny, neat use of the ball, not needed for a lot of his bloodthumping tackles, but good all the same. 7
Kent:
Gets such unfair abuse from a lot of fans, and this match made them look silly. Bright, quick, lots of skill and was often running rings round the backline, Kent also took his goal brilliantly. Didn't do much wrong at all. 8
Wright:
Really struggled to have any impact, and was rightly pulled off at half time. 4
Colak:
Some excellent movement and looks sharp, while he's not quite the physical presence of Alfie, he has more intelligent runs and with the right service this lad will score a lot of goals. Nearly scored but for an excellent intervening tackle. 7
Subs (select):
Matondo:
THIS was the way to truly introduce yourself to Rangers fans. His pace was electric, his dribbling tight, and he scored and assisted. He couldn't have produced a better debut, even albeit it was just a friendly. 9
Lawrence:
Sharp, intelligent, and nailed himself a goal as well, the Wales international looked more than able and fit right in almost immediately. 8
Sakala:
Runs around with a grin on his face and his eyes closed. He's more offside than Pippo Inzaghi. 5
Manager:
Gio produced a strong XI to face Moyes' side, and aside Wright and possibly McLaughlin, he will be happy with what his men produced. While some individual performances weren't sparkling (Connor we're looking at you) the team as a whole looked way fitter and clearly Gio's preseason prep is starting to kick in. His squad looks a lot more ready now than even 3 days ago. Amazing what a few sleeps can do.