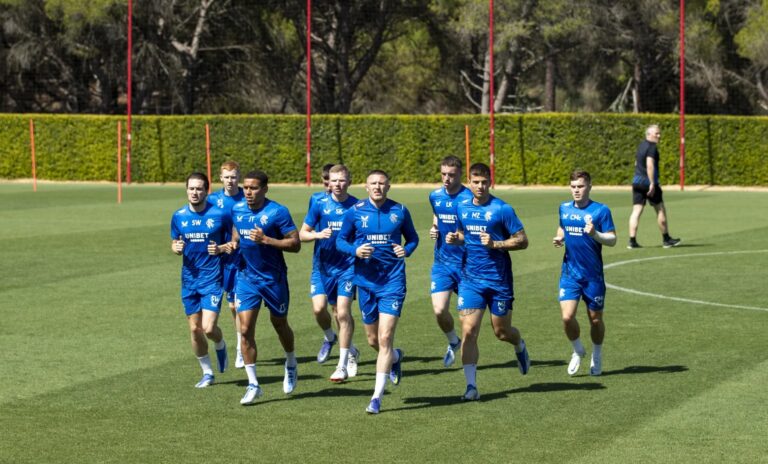 All of a sudden, after some panic through June at the bare lack of signings, July has got going with a vengeance with a flurry of activity.
So let's look at the state of the squad at present – injuries and fitness as well as the new boys.
Goals:
As we know, McGregor signed a new deal, McLaughlin has two years to run, and McCrorie appears to be staying for now, along with Keiran Wright who is training with the squad in Portugal. There's not much more we can add on that one for now.
Defence:
Filip Helander is in the Algarve but has suffered a small setback. We'd thought he was much closer than he is, but he's on the bike at the moment as well as light training. Everyone else in defence is fit, present, and accounted for, with Tav, Goldson, Zukowski, Simpson, King, Bassey, Barisic, and Katic taking full part in training. John Souttar, as yet, has not taken part and is on the bikes.
Midfield:
Ryan Jack is on the bikes and taking part in light sessions, but is close, but aside him everyone else is totally fit. Davis, Sands, Lundstram, Kelly, Kamara, and Arfield are all taking full part in sessions.
Attacking midfield:
Joe Aribo is of course gone (more on that later) but Ianis Hagi's Rangers career has been struck a massive blow. He's not even on the bikes although he is in Portugal. Doubt we'll see him any time soon. Lowry is fit but requires to build up some bulk so he's in the gym.
Wings:
Kent is the only winger in Portugal for Rangers, unless you count utility forward Wright and fringe man Middleton. But all three are totally fit. But Kemar Roofe is on his way out it seems after he was left out of this trip. Tom Lawrence is the new boy and is yet to hook up with the squad. Sakala is completely fit and we hope he can start to hit some form.
Up front:
Morelos hasn't been seen at all on this trip, he's some distance away from being ready, but new signing Antonio Colak has fit right in and is immediately in with the full training. Unfortunately that's all the options we have there!
Rangers are working on new deals as we speak, and as things stand the squad looks like this:
McGregor, McLaughlin, McCrorie, Wright; Tavernier, Helander, Zukowski, Goldson, King, Helander, Katic, Souttar, Bassey, Simpson, Barisic; Jack, Davis, Kamara, Sands, Lundstram, Kelly; Arfield, Lowry; Kent, Middleton, Wright, Lawrence; Sakala, Morelos, Colak.
Only Helander, Morelos, Lowry, Souttar, and Jack are not taking consistent part yet in full sessions, but they're getting there.
It's all about miles per gallon and getting that body ready.