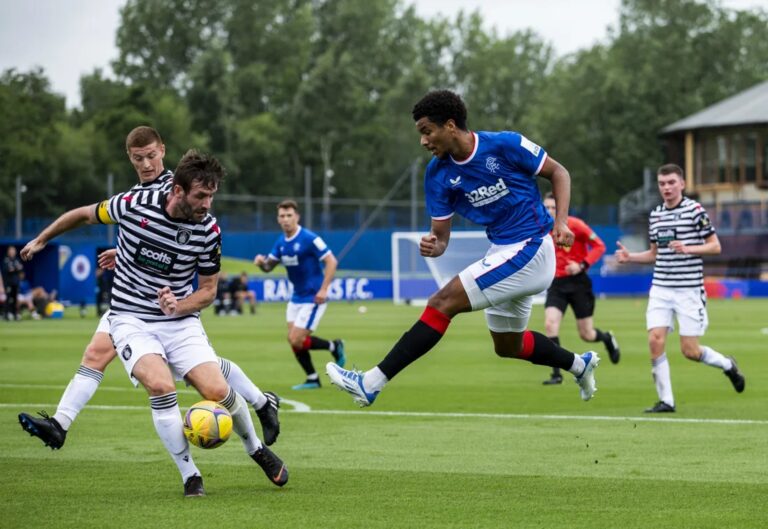 Rather slipping under the radar, Rangers hastily-arranged an extra preseason match for today, with Queen's Park coming to the Training Centre for the home win on the day.
But it's safe to say this was a more telling friendly than Spurs yesterday in some ways, because while the visit of Antonio Conte's PL goliaths probably revealed the starting lineup, give or take, for the start of the season, today's match showed us who ISN'T part of any plans and who may still have chances.
Ibrox Noise takes you through the key presences (and absences) at Auchenhowie:
After playing no part yesterday, Scotty Arfield started this one. He's been on the fringes in preseason and his role next season is expected to be significantly reduced – but he will be a vital cog in league matches and cup matches, as well as a bench role for big matches.
Ryan Jack was also in the XI for this one, vital minutes which indicates his role is being reduced too. Like Arfield, and fellow stalwart Steven Davis, he will play as and when needed, but is currently probably second choice to Glen Kamara.
There was no Lowry or Morelos – both are still injured and in recovery, and neither of them are close to being fit for action. We don't know how much of a role Lowry will get this season, and at this point we're less sure about Alfie as well.
Zukowski is either not fit, or still isn't regarded as particularly relevant – he was only on the bench yesterday, and he only got on for 35 minutes – and Leon King started in the Pole's native RB slot. That he couldn't even play much of this one didn't bode well for his chances.
McCrorie FINALLY got a start this preseason – after McGregor and McLaughlin swapped the shirt throughout summer, McCrorie was completely overlooked. But he got the nod for this one.
There was no Roofe in sight, or Hagi, or Helander. We know Hagi is long term out, and the same pretty much goes for Helander, but Roofe's status is a mystery. All we know is he's 'injured'. Doesn't look good for any of them.
Glenn Middleton REALLY needs to move on – he was on the bench but was not used, and his Rangers career is feeling like the long drawn out death cry of a failed footballer. He needs a fresh start ASAP. He's been linked to Utd and Hibs.
James Sands is winning a lot of fans over quietly – we're not onside yet, but we've never actually been critical of him – he quietly gets on with his job, never standing out, but never making errors either. He looks like one who may actually be a bigger player for this club this season than many might expect. And he was a starter at the back v QP.
Ben Davies got his first outing as a Ger too, getting some vital time on the pitch following his move here. We expect him to make his way to the main defence before long at all.
Niko Katic was reduced to a second half sub for the former Liverpool man, and it says a lot that he couldn't even get a start here.
Last but not least, a start for Scott Wright – he's finally been demoted to the lesser matches, after playing a major role this preseason in the absence of anyone else useful for the RW. Same goes for Sakala, he started this one. Neither of them are up to the level Gio needs.
So what does it all mean?
It means an absolute boatload of players got minutes this weekend, in two different matches, and the (bulk of the) squad is now fit and ready to face the season head on.
We're in a good place, not perfect, but good.