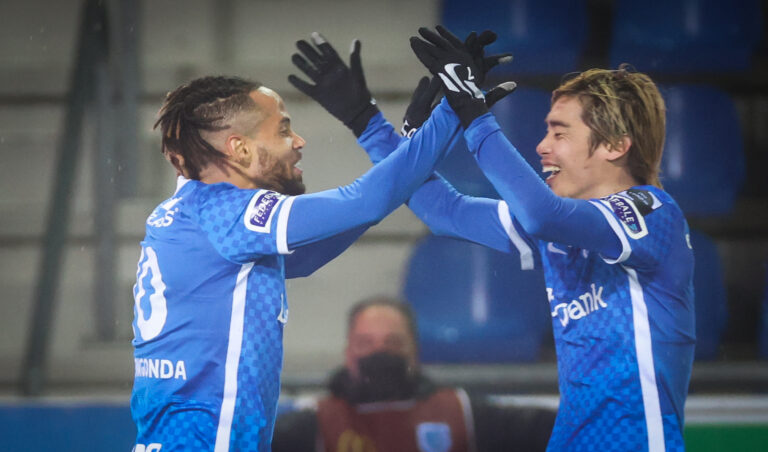 From absolutely nowhere Rangers fans have gotten excited over a rumour that would see Congo international Théo Bongonda join Rangers from Belgian side Genk, where the Famous of course secured Romanian star Ianis Hagi from a couple of years ago.
Rangers have a good relationship with Belgian clubs, with Oostende, Anderlecht and aforementioned Genk all selling to us in recent years, so it's a market the club has used pretty well in truth, and this would mark another good piece of business.
His stats for the season past are decent, not sensational, but decent, with 13 goals in 43 but just 5 assists, which for a 26-year old winger in a modestly good league is not really anything to crow about, and may explain why he has just 3 caps for Congo.
His overall record for Genk is much the same – 111 outings, 36 goals and a rather underwhelming 20 assists. Ryan Kent, domestically, is 111 outings (yes really), 25 goals, 29 assists.
There's no denying Ryan Kent is very much a comparable player at the same age and unless Kenty was to move on, we can't really see why we'd be investing £6M on a player of this quality in the last year of his deal. It would be a like for like and almost an identical addition.
His European record is slightly less than Kent's – 11 UEL appearances, one assist, plus 6 UCL appearances and one assist. Kent is 34 appearances, 4 goals, 9 assists.
He's a solid enough player, marginally inferior to Kent but very much a similar player in terms of numbers.
As we disclaim every time though, if Gio does want him, that's why he's manager and we know nothing.