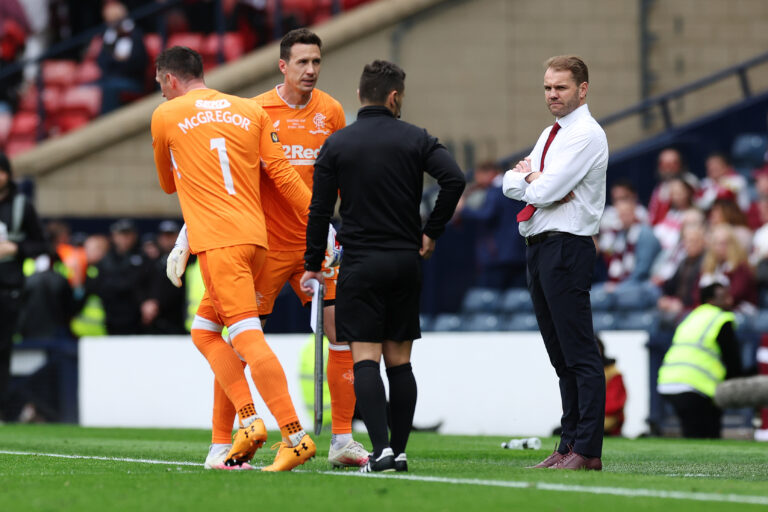 Rangers' situation in goalkeeping is making for much debate, or, we should say, isn't, and should be.
What we get back from the majority of fans is our goalkeeping situation is perfectly fine, and we don't need a new goalie.
Now, while it's accurate to say we have two decent goalies in Jon McLaughlin and Robby McCrorie, Allan McGregor's situation is a lot less certain and all we know is at some point he'll be talking to the club about 'his situation'.
So let's look at each goalie in turn and sum up where we're at.
McGregor:
In a nutshell, regardless of his contract (he's currently a free agent), he wasn't as good last season with a small dip in Europe as well. Domestically he was poor, and while we love the man and rate him among our best ever goalies, maybe the best outright, it doesn't make 21/22 any better than it was. He's aging aggressively now, and we'll see what he and the club appraise, but we can safely say we're not in favour, as things stand, of him being first choice next season.
McLaughlin:
Comically overrated by a lot of Rangers fans who want him as number one, McLaughlin is no bad shakes by any means but supporters, who probably reckoned Wes Foderingham was good enough as well, are widely advocating him as a justified first choice. He's 34, and he's been a League One goalie as well as Hearts, with the move to Rangers the peak of his career. As deputy. We're not slaughtering him, but does that scream worthy successor to world class McGregor to you? Rangers expect a lot from our goalies, and we're not sure McLaughlin is good enough to emulate Klos, Goram and Greegsy.
McCrorie:
Had such a great Old Firm a couple of years ago, but hasn't been given the chance to develop further – he's third choice keeper but we're not able to yet see just what he has. We trust the manager completely, and he may feel he has a decision to make on the lad, but of what we have witnessed of McCrorie, we'd love to see him given an opportunity. But that's a sentimental Rangers fan speaking, and we don't see McCrorie in training every day.
So, looking at the above, none of the choice scream as obviously number one. We have an aging McGregor, a deputy journeyman and an unproven 'youngster'.
Is it any wonder Rangers are being linked to new stoppers?
The situation is by no means as comfortable as some want to think, and it is an area which needs attention.