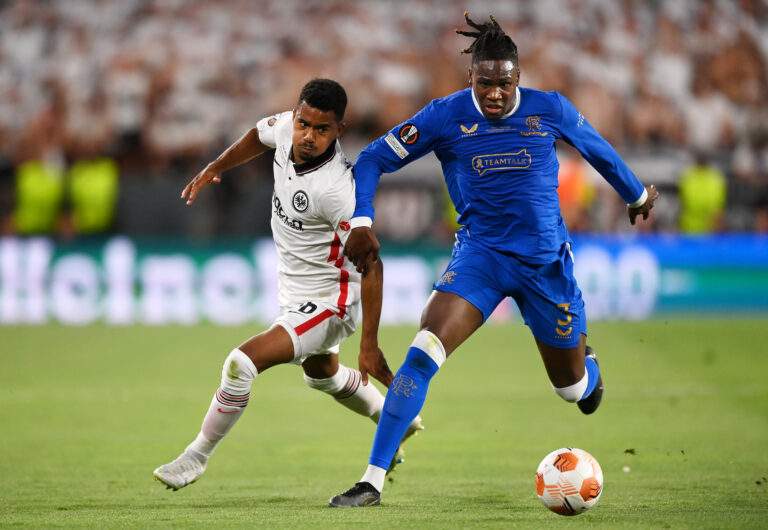 If there was an absolute shining star for Rangers last night, it was the official rise to 'top player' of Calvin Bassey.
We at Ibrox Noise, more than most, have been very hard on the young man, preferring Borna at LB and Helander or Balogun in the middle.
We've never been terribly keen on Bassey, feeling most of his game is making mistakes and then fixing those errors.
But last night, apart from one incident of this, he was absolutely titanic, and not a single thing got past him.
It was the performance that launched Bassey onto the world stage, and turned him from a rising star into a world class defender.
That's right, this wasn't just a good performance, it was world class.
He snuffed out everything and dominated the middle like an experienced pro, in a performance that would have the likes of Baresi, Maldini and Blanc proud.
He put to shame Connor Goldson's poor display, completely outclassing his senior partner, and Calvin Bassey at 22 demonstrated he's got the tools to go to the top of the game, with a level of dominance that reminds us of Virgil Van Dijk.
But he's bigger and stronger than the Liverpool stopper, and while he's on record as 'not liking' the CB position, he owned it last night.
Goldson (and Wright) completely let him down for the equaliser, and while he let his man get goal side, the ball should never have got as far as it did. His mistake there should never have been noticed – bigger ones from especially Goldson exposed it.
No, this was Bassey's moment, the moment he announced himself as the best in Scotland and which we know will have attracted big attention from down south. We know Villa are looking at him.
Mercifully his contract has another two and a bit years on it, so Rangers would not have to sell him for a modest price if they did indeed choose to part company.
Market value? The club is unlikely to accept much below £20M for a player who delivered this well on a stage as big as the UEL final.
But either way, Bassey has won over every doubter he had. Including Ibrox Noise.
And we're hard to please on here.