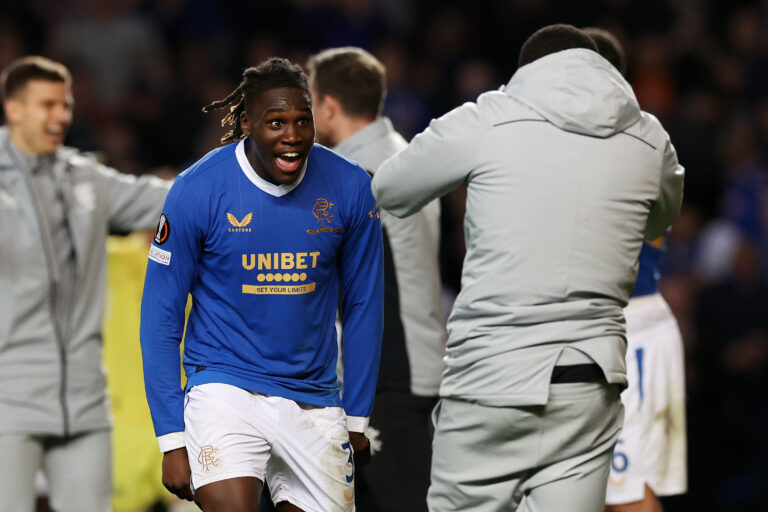 Now that the UEL final is out of the way, we at Ibrox Noise are willing to discuss transfers again.
You'll have noticed over the past circa 7-10 days we've avoided that topic, for not wanting to disrupt or unsettle players, but the final is over so we can now raise it again, and with that in mind the latest info is major interest in Calvin Bassey following his performance in that final.
He's under contract till 2024, but if Rangers decide to cash in he could net the club our biggest-ever fee given the spotlight he's now under.
Rangers' finances are now ok thanks to that UEL run – we're no longer in the red with income over the past 7 months equalling around £50M. Of course, a year of overheads at Ibrox costs about £75M give or take so we're ahead of £37M by the halfway stage of the accounting year.
Which is a good sign, so we're in a position now to get the most for our best assets, and Bassey has become one.
Aston Villa, Dortmund and Fulham (promoted) are among those credited with interest, and while claims allege £10M is the number circulating for his services, Rangers won't accept that.
The 22-year old defender's value is currently around £20M, albeit Rangers would likely be happy with £15M.
But keeping him?
He has the tools to go all the way in football, with one Ibrox Noise regular suggesting he resembles Bobo Balde in the man-mountain stakes. Not far wrong, but a much better defender with potential to rise to the top.
We'll see if any bids come in, and if Bassey sticks or twists.