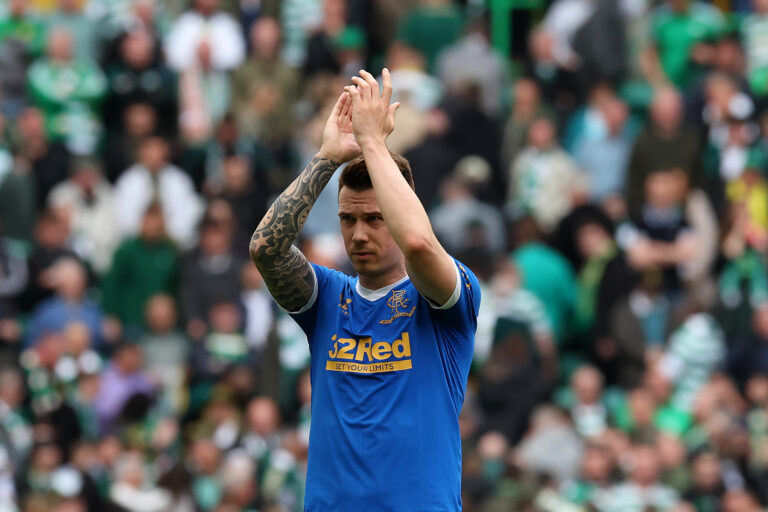 So here we are. We now know where we stand with 9 points up for grabs. 6 points behind, 3 matches to play.
Is the league gone?
Almost. We admit it's very very thin now. It's hanging on the thinnest of thin threads, with a bit of a break in the fibres, from the shoogliest peg, around which a bit of an earthquake is rumbling.
We have to hope Celtic lose twice and draw for Rangers to be crowned champions, and as amazing as Helicopter Sunday was, Celtic were only 2 points ahead going into the final 3 matches, not 6.
Both sides won their penultimate two matches, only for Celtic to stumble at Fir Park. Rangers cleaned up at Hibs.
This is different.
We have 3 to go and have to hope Celtic don't win a single match again, and they have until the last match of the season to do it. They can afford to lose two anyway and that still isn't enough. They draw the last one, yes, Rangers are champions.
But it's a long shot.
And it's why we now throw our absolute everything into Thursday.
We cannot now prioritise anything to do with the SPL, and we chuck everything, the kitchen sink, the bricks, the mortar, the lot, into the UEL and the Scottish cup.
The reality is even without 56, a cup double for Rangers would be titanic. And the further reality is getting to the UEL final itself would be regarded as a colossal victory of epic proportions.
As long as the players come off the pitch on Thursday leaving EVERYTHING out there, this result won't have mattered much.
Would we have taken UEL glory and a cup over 56 before the season began?
Yes, every day of the week.
Let's put everything into making that happen.