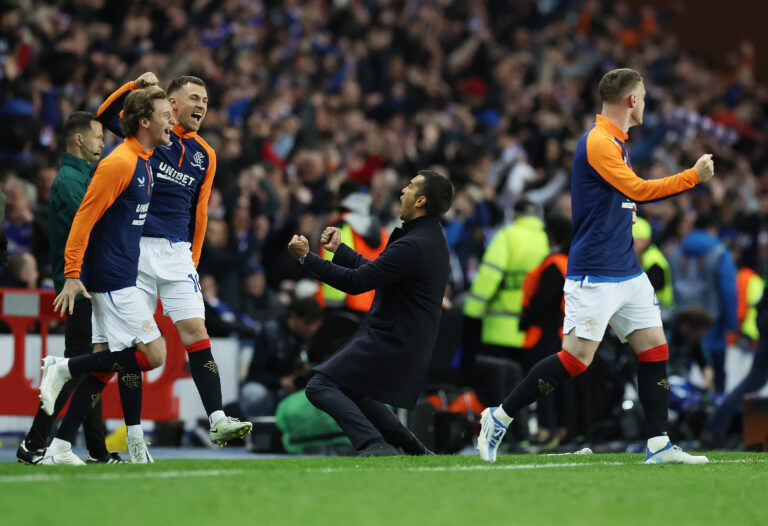 What Rangers have achieved on the 5th of May 2022 is up there as possibly the biggest achievement in the club's history.
Now while many will point to 9IAR, 72, Leeds and the effective semi final of 93, plus Manchester and 55, we argued some months ago that beating Dortmund, given where we'd been, was maybe the biggest single outstanding achievement in the club's history.
Rangers, 9 years ago, won the Third Division v East Stirlingshire with a goal from Fraser Aird.
We had no money, relying on mercenaries from the SPL and lower down willing to come to us based on name.
That's what we had around a decade ago.
Today, we have made the Europa League final, and as much as we love and adore not to mention worship the Grand Master that was Sir Walter, Gio has arguably eclipsed Manchester with this.
Gio has had no money, not a dime, Walter had spent about £15M by the May of 2008 since his return in January 2007. He used every trick in the book with incredible defending to get us to the final, but very few of us actually believed our side was capable of beating Zenit.
But what Gio has done, with just 7 months and no money at all, is beat Dortmund, Prague, Braga, Red Star and now Leipzig, and not just beat them, but do it fair and squad without any 'anti-football'.
Let me repeat, never in a lifetime would I dream of criticising Walter, the man is a personal hero and a God to so many, but he was limited in what he could do with his players – flourishing attacking football was not something that squad was capable of. So he worked within his boundaries and created incredible results.
But Gio has taken Gerrard's squad, and literally turned them into world beaters who can beat pretty much anyone on their day.
We've beaten the best the Europa League has, and we're left now to finish a side who languish midtable in the Bundesliga – easily the weakest of the sides we've actually faced in the UEL.
They will not be pushovers, we respect them and we will be prepared – you don't get to the UEL final if you're no good.
But they are by far the least dangerous of all opponents we've faced in this competition, and the only thing that can stop Rangers taking glory here is themselves.
This is not arrogance on the level of Lothar's nonsense about third-rate. Frankfurt aren't third rate, they're in the final by merit, they put away Barca after all (even if Barca are rank rotten nowadays).
We will not get it all our own way.
But this Rangers team refuses to be beaten by anyone, and we sincerely hope to include Frankfurt in this.
The biggest achievement in the club's history? It's absolutely up there, with the very best.
And if Rangers win in two weeks, it's officially the biggest thing our club has ever achieved, bar none.
That is beyond denial.
Bring them on.