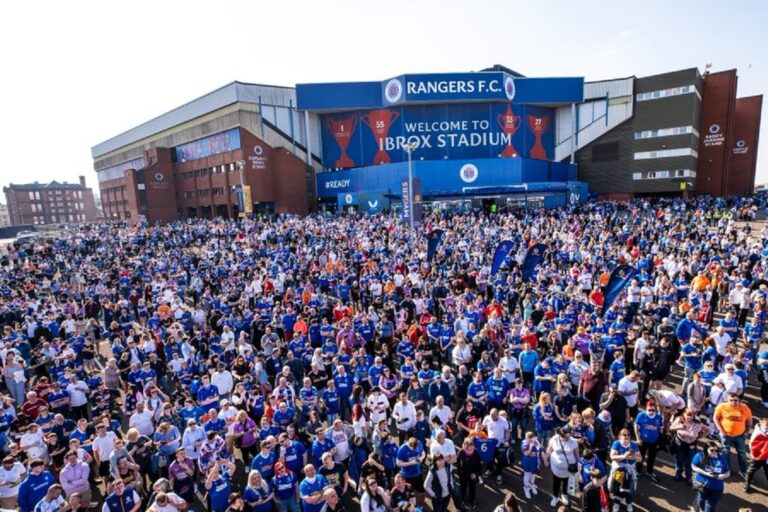 If one thing has been forgotten amid Rangers fans' shocking treatment in Sevilla, it was the shocking treatment from our own board with the neglect of any form of beamback.
Don't think we had let this one slip on Ibrox Noise, Rangers, we're still appalled that absolutely nothing was set up at Ibrox to let fans see this match properly, and the only reason the topic has rather faded from the front lines is down to the fallout from the fans in Seville.
That took centre stage, and the club of course are contacting FSE with regards to action that can be taken, but they have some brass neck given their own disregard for accommodating supporters.
Every other European finalist, including Feyenoord and Roma last night, had full beamback facilities for their fans, with just Rangers disgracefully not bothering.
The official public line that they couldn't get the staff was rubbing our nose in it – not only were they emphasising that it was more important to reward Rangers workers with free tickets so they could swan off to the final, but they didn't see the point in outsourcing to a temp agency.
The only club who didn't think their fans mattered enough to accommodate in their home city.
All 5 other European finalists did, and 50,000 people at least were in Rome last night at the Olimpico to watch Jose's side lift the inaugural ECL trophy on a big screen.
That NOTHING was laid out in Glasgow or Ibrox is a disgrace, a sham, and demonstrates a board we can honestly say we have little fondness for these days.
Rangers have been badly run since 55, March 2021, and this beamback was the epitome of the disinterest from the suits in accommodating the fans.
We just don't matter to them.