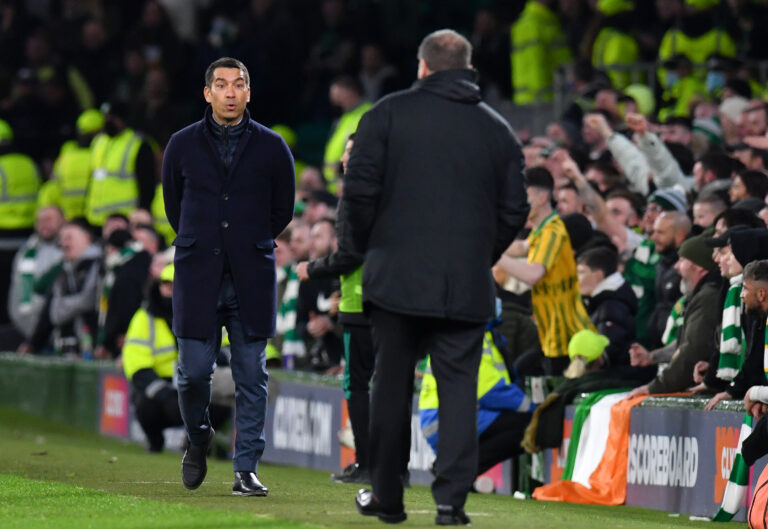 There's absolutely no question that two things happened at Parkhead during Rangers' bad loss earlier this year:
1: Pure and total stagefright. With no Rangers fans in attendance, the players allowed themselves to be intimidated by the sellout home crowd. They weren't big enough in that first half, and they did shame the shirt. They shirked their duty and men were made to look like boys. Celtic weren't particularly great, but their opponent remained in the dressing room after KO.
2: Gio completely screwed up his selection and tactics. Starting young Diallo in a cauldron like Parkhead was a major error, and his tactics on the whole were far too submissive. Rangers as a team didn't show up, and the manager's tactics made that even worse.
GVB has learned a lot in his five months or so as Rangers manager. He's been a miracle in the UEL, and is learning the ropes as an SPL Rangers manager.
While form dipped badly in late January and much of February, March saw a return to results and some good play, and we have to hope that continues on Sunday.
It'll be much harder without Alfie, as is looking likely to be the case, sadly, but it's not impossible at home with 50,000 Bears roaring the side on.
Gio has shown plenty of adaptability with the tactics, plenty of nous and ability to change games.
Hell, he did it at Parkhead and completely altered the match after the restart, but too much damage had been done and we still lacked much cutting edge up front without Morelos.
So it's on him to show tactical acumen, everything he has learned.
But the players must stand up and be counted. If there's no Morelos, we'll need to compensate. We'll need Sakala, Roofe and Kent to be on their strongest a-game possible, and we'll need Ramsey's class and polish to show up as well.
It's going to be a tough match, but it's the most even-matched Old Firm in years.
Winner takes it all? It's game on if Rangers win and it's Celtic's title to lose if they do.
All to play for.