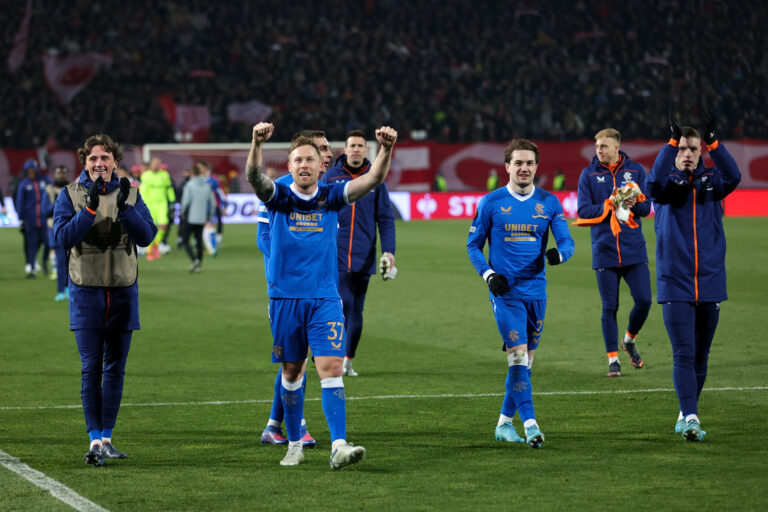 Let's move away from the hysteria of being in the last 8, and be serious about Rangers' chances of winning the Europa League.
There are just two ties to win to get to that final, Braga and either Atalanta or Leipzig, but where do Rangers sit in likelihood of going all the way?
Well, back in 2008 Zenit were a complete outsider to win the UEFA Cup – they'd finished a paltry third in their group, while Rangers were a parachute from the CL.
Indeed, Zenit won a single match that group campaign, which saw them qualify to face Marseille, who they beat on away goals, before the sudden shock of raising their game v Bayer, Bayern, then ourselves.
It was the summer which saw Andriy Arshavin become a global superstar, and Zenit become a global power themselves after this.
Rangers, this campaign, have been a million times better than Zenit were then, the Russians only finding their feet from the quarters onwards.
If they could do it then, there is no reason Rangers, who have been far better, can't this time.
Rangers have already beaten the best team in this tournament, and Red Star really were not great at all. We have several wins and we've played great football – and we have genuinely as legitimate a chance as anyone.
Barca are favourites, but it's based on little more than the fact they're Barca, rather than how good they are. They're not the clear best team left by any means, and picking who is is rather difficult.
The fact Rangers are far from outsiders, currently sitting as 6th favourites, gives some idea of how evenly-matched all the remaining sides actually are.
Leipzig sit 4th in Germany, but we smashed the side sitting second. Atalanta are a modest 6th in Serie A, solid but not frightening. And our opponent is also 4th in Portugal, a massive distance off the top 3.
And the other side of the draw sees Frankfurt, Lyon and West Ham. Lyon are honking, down in 10th, Frankfurt are the same in 9th while West Ham are very strong this season in 6th albeit being a CL contender at one point.
Barca? A mile away from where they were – a good team but not chock full of the megastars they once had – the Neymar, Messi, Ronaldinho and even Henry days are a mile away and while Aubameyang is world class, he's just not in the league of the old times.
And it's brought Barca down to size.
So yes, Rangers have as good a shout of winning this thing as anyone. There's not one team clear favourites on sporting merit, and this is why it's the most open UEL in memory.
And one Rangers have a case for.