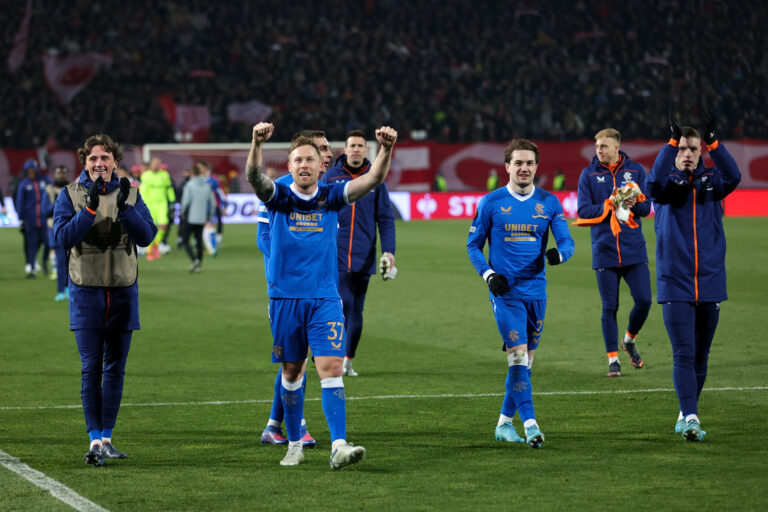 Rangers made it – to the quarters. In truth no one on Ibrox Noise was in any doubt we'd get there, but it was a scrappy affair to achieve our first Europa League quarter since 2008.
Ibrox Noise brings you our ratings on a grand night in Serbia.
McGregor:
For all the fallacies he's had domestically, he's rolling back the years in Europe. This wasn't QUITE vintage McGregor, THAT save in Prague and the miracle stop in Bremen remain his best, but he was superb, and for a 40-year old stopper he bailed us out repeatedly. Absolutely supreme. 10
Tavernier:
Was more of a striker in this one than a RB at times, and found himself out of position some of the evening as well. It wasn't the best he's played, but he was good enough – less crossing than he'd normally do, but defensively grew into it and made a few stops. 6
Goldson:
Absolutely lost for the opening goal, and had the worst distribution of his Rangers career at a horrendous 52%. Loose with the ball repeatedly, but made up for it with a lot of vital clearances. Not the most composed he'll ever be, but did the job more or less. 6
Balogun:
Had a pretty poor range of passing as well, made just 14, but made a couple of absolutely critical nicks and blocks and cleared well too. 7
Bassey:
Tighter with the ball but defensively all over the sea, a mixed bag for Bassey who was done for pace repeatedly at the back (glorious fallacy with our fans is he's quick – he's not) but he offered more going forward and nearly managed a goal. He's a developing player and this was the best and worst of his game. 6
Lundstram:
A strong display from Lunny, some excellent passing and fine defending through the middle. He's become absolutely undroppable. 8
Jack:
Ah there's just a bit missing from Jack the past few matches – doesn't look right at all. Not the Jack of old, and isn't at the level we'd expect. Carrying a niggle again? 5
Kent:
Was suffocated and fouled all over the place, starved of the ball and struggled to do much with it when he had it, this was not one of his better shows. So typically he manages one mazy run forward and the goal on the night. Not his best, but who cares. 6
Kamara:
We make no bones about it, Kamara was a bizarre choice for playing behind Morelos – it's not his position any more (used to play it for Finland years ago) and it didn't work at all in the first half. He did win some fouls but he had poor hold up play and wasn't able to spread the ball. He was another one lost for the goal, lost his man entirely. Attack was deeply disjointed. His big contribution was the fine ball for Kent and he did improve a tad in the second. 6
Aribo:
Aribo is going through the biggest lull since he got good in a Rangers shirt – he's basically not kicked a ball in anger in approaching two months. 5
Morelos:
He was not at his best in this one, his least convincing Euro display for many a year, looked off the pace, patchy and loose. 5
Subs:
Arfield:
Had a decent little cameo – helped to keep the ball a bit as the match wore on and showed his experience. 6
Sands:
He did well enough, brought on for the ailing Jack and was a bit more composed. 6
Rest of the subs weren't on long enough to make a major impact.
Manager:
Gio baffled us with the Kamara selection and formation, and the first half was a truly weird display – the defence was a shambles and conceded the opening goal in a frankly amateur fashion, but up till then we'd played actually quite well. We also recovered from that goal well with much to thank McGregor for. He was by an absolute mile our best player. Gio's change in the second half saw Bassey come inside and Kent go wide to mark the FB and it helped very well stem and suffocate, and Kent's goal absolutely killed the match and the crowd. Gio showed he will try things, but he can read a match and make the right changes, especially at this level. No one will want to face Rangers in the quarters. 9