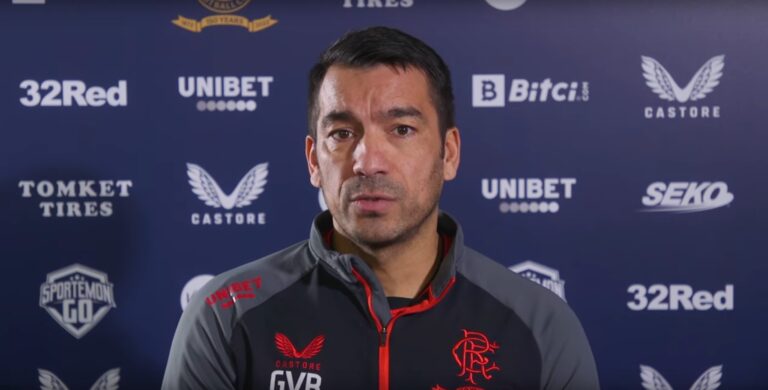 Last night was the first chink in the Giovanni van Bronckhorst armour. The manager has been great, let's face it, and got pretty much everything correct so far, so any Rangers fan with even a hint of turning on him can kindly exit stage left.
We remain fully behind him, of course, but we have always been willing to criticise when need be, and the boss had his lowest 90 as Rangers boss.
If we look at the starting lineup, we cut slack due to 6+ players still unavailable. They'll be back fairly soon, but no Helander, Arfield or especially Aribo really made a difference to Rangers' options, and gave Gio a lot less flexibility.
But starting a 21-year old rookie in James Sands at Pittodrie was a blunder. It was a gamble, to hope his composure and defensive attributes would thrive, and while his reaguard contribution was actually decent, the game otherwise passed him by and he was slightly rabbit in headlights. Can't help feeling while John Lundstram isn't universally flavour of the month, he'd have been a better option.
But the biggest problem was the tactics. Gio went with the same 4-2-3-1 which has been pretty darn effective, but overlooked the vitriolic atmosphere and oppression Pittodrie brings Rangers. He was naïve to select an attacking formation, and it exposed the rearguard way too many times, with Ramsey and Hayes getting way too many crosses in, and Ferguson breaking centrally with too much ease.
The substitution was also bizarre, bringing off a reasonably bright performer in Scott Wright, and replacing him with a holding midfielder. GVB's reasoning was almost certainly to fortify defence, but it removed an attacking outlet which had been taking pressure off our own defence.
In short, it invited more pressure.
This was a valuable night for Rangers and GVB. He's had an amazing honeymoon, and the fans still love him. We know we do. But this was the first time he's made tangible errors that have ultimately cost us along with the players' own poor displays for the majority.
We take it on the chin, we learn, and we move on.