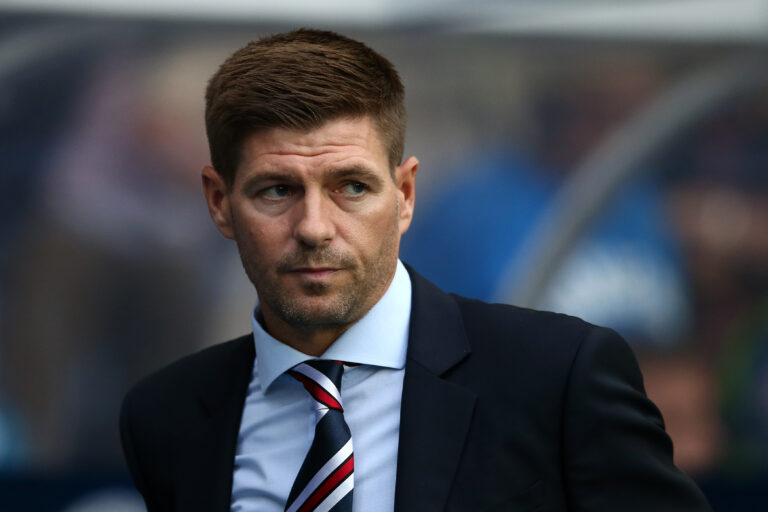 So many of our writers here at the Noise have been extolling the virtues of new manager Giovanni van Bronckhorst recently, and pointing out the 'limitations' of ex-manager Steven Gerrard, that it's time we took the bull by the horns and commit to 'print' the reality of what the ex-boss was, and what he left us with.
Let's be factual, fair, honest, and keep emotion out of this where possible.
The first point we want to raise is the man clearly left us with a squad night and day better than the one he inherited. Some absolute Rangers quality players are in there, players we didn't have before he signed up, so the quality of our personnel is, entirely, down to Steven Gerrard's transfer work. Sort of – he didn't have a major say in a lot of the players who came in, but it was his reign.
However, there is a small caveat to this praise – he did have £35M to spend over 3.5 years so we'd expect a half decent group of players for that. His predecessors didn't have a penny, and in his first transfer window Gerrard spent £11M on the Barisics, Grezdas, Katics, and Goldsons to name just four. So he was financially backed, and that certainly helped.
So while the results this season hadn't been the best, Gio has had a fine squad to work with, and that's helped the transition.
However, we must also point out that with this £35M SG won just one single trophy. If we overlook Europe (which is unfair to do) Gerrard really didn't do great with the budget he had. He didn't get the best out of the quality squad he had assembled, and his favouritism let him down. But if you add Europe, then his performance increases and we punched above our weight. Last 16 twice in the UEL is a fine accolade and that continues under GVB.
But that domestic performance was underwhelming. 55 was gigantic, but the 24 months before the start of that season were pretty much the same as previous bosses. There were glimpses of 'great' but nothing materialised.
And cup performances were a disgrace. We don't need to delve into them beyond that. A big fat fail.
And then the performances after January of 55 already started to slip back to the old, and while we still won the league in a record-breaking time, the staggering work had been done in August to New Year. And we'll be bold to say a lot of it relied on Ryan Jack as well.
The loss of Jack completely screwed Gerrard, and performances deteriorated almost directly as a result of losing him.
SG was signed to start a shift in power, to end Celtic's dominance. While it took 3 years, he succeeded.
And he gets full credit for that.
But he just wasn't a very good manager for us, over the piece. He achieved his mandate, but he didn't perform spectacularly in doing so, over the 3.5 years. He was a learner manager who blundered a tonne of times.
It's no lie or bitterness to say that, he got way more time than Pedro or Bread Man, and in that time he spent £35M (more money than either) and still did notably less with it than Walter did with his £35M in 2007-2010.
Fair comparison? No, not really, Walter was the Grand Master, but he is who all our bosses must aspire to.
Gio hasn't spent a penny and already has SG's team, without Ryan Jack, as a far better unit than SG ever had, aside the impressive split of 2019. When the league was long since lost.
So what's the conclusion? What's the moral of the story?
Gerrard did lay the foundations, but the house he built fell down several times, and it simply wasn't able to deliver, under him, what it should have been capable of given how much spending was done.
He got the big one, 55, and stopped *10, but honestly? Domestic he completely underachieved and that's fact.
We've completely overlooked the diabolical manner of his exit, but we'll all have our thoughts on that. Ibrox Noise have been pretty clear how we feel about it.
But we're onto an upgrade under Gio, and we're grateful.
We thank Gerrard for 55, for stopping *10, and for making us competitive in Europe again.
And we thank him for leaving and for letting us both move on.
And that is about that.