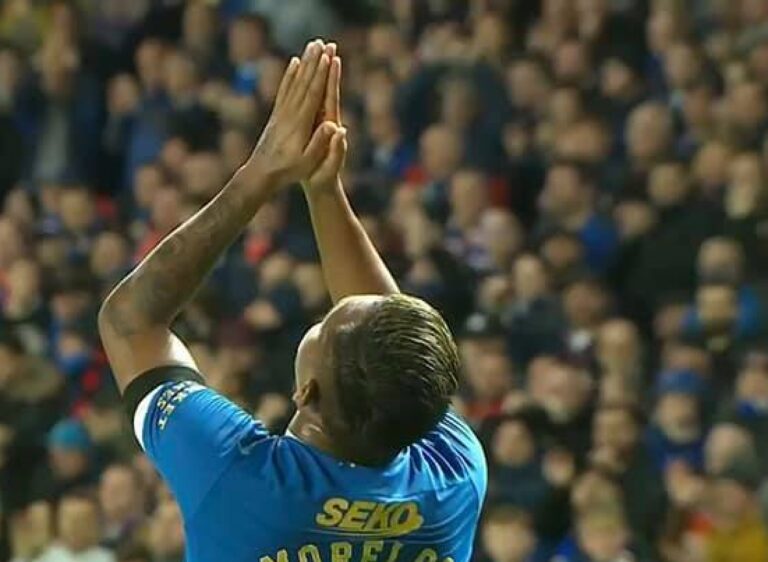 Alfredo Morelos celebration on Wednesday is something we've not yet looked at, and we wanted to express how classy it was. We did allude to it in the match review, but his grace in dedicating his celebration to Sir Walter showed his humanity, and he's always been seen to pray during Minutes' Silences as well.
We know he's a big believer in God, and he used his faith to gracefully show a moment of tribute to our manager.
Meanwhile, someone we tried to give real credit to around the time of Walter's passing, Scott Brown, rather disappointingly blotted the night by trolling Rangers fans and trolling Alfredo Morelos as well.
On a night humility, grace, and respect were standard, the Dons appeared to be disinterested in showing any, and instead Brown though this match was the one to troll the opposition in by mocking Morelos' typical knee slide celebration.
Was it disgraceful? We're not sure we can go as far as that. We'd call it unedifying and undignified, especially given the decent things he'd said in the Aberdeen presser after Walter passed.
It was uncalled for, certainly, and he could have picked a future fixture between the two to mock.
It's football, banter and trolling is part of it, and we're not snowflakes – but this was Walter's night and Brown tried to make it about him.
Really, really crass.
Thankfully Morelos showed a moment of humility and class to make his moment all about Walter. That's what we shall remember.