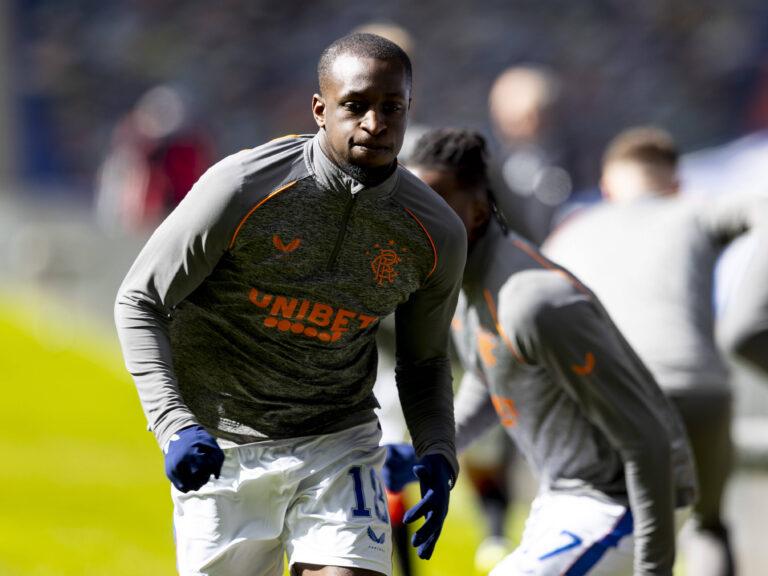 With Kamara signing a new contract (according to sources, Kamara signed a 5 year, $75,000,000 contract, including a $15 million signing bonus, with a $33,833,000 guaranteed minimum payment, and average annual salary of $15 million) we now should be one of the favourites to win the Europa League.
…sorry
…what do you mean, I got the wrong Kamara?
…that was the new contract for Alvin Kamara, who plays in the NFL?
Wow…I guess we play the wrong type of football.
OK, back to Glasgow Rangers. As I was about to say, Rangers, just this summer, were favourites to go far in the Champions League.
We were then dumped out of that competition, and then we became one of the favourites to go far in the Europa League.
But, I honestly cannot sugar coat this.
After running tactical analysis after tactical analysis, with the way we are playing I could see a slight, potential chance of us winning, or perhaps even drawing this Thursday, if we could do some tactical switches to the team.
But then Steven Gerrard came out and said that Kamara "plays an integral role in our system and is vital to our style of play." I finally realized we really are in deep $#*!.
With Kamara against Livingston taking 1.5 seconds to 3 seconds to pass a ball either sideways or backwards, I am really confused about Gerrard's glowing comment.
Really, Gerrard, is that how you want Rangers to play?
Slow methodical football, where you never pass forward, and the midfield only pass the ball back to our defenders, and have them squirming, because suddenly they have opposition strikers running at full speed at them?
Or perhaps Stevie's game plan is Kamara is passing back to our defenders so that Goldson can somehow score a worldie from his own penalty box?!
Because that, and his sideways pass, is all we seem to get now from Kamara.
Here's a simple question. How many assists did Kamara give Rangers last year from his CM position?
I'll tell you. Two in 51 games. That is one assist every TWO THOUSAND MINUTES.
He also did somehow score two goals.
There are no stats for goals cost.
When Hagi came on at half-time, he immediately showed us what an energetic midfielder should look like.
He came to assist, then passed the ball, then ran like a rabbit upfield, dragging his marker with him, and he immediately freed up space for our defenders.
He was not just passing the ball, then standing still like a statue, and then throwing his arm out and pointing to others in random directions.
It made me wonder if Kamara is hoping that someone else is going to do all the hard work to get the ball up the pitch, or is he trying to act like a perch for some of the Ibrox pigeons?
The heat maps for Saturday's match demonstrate the problem – Lundstram and Aribo's maps were evenly spread all over the midfield area, covering varying areas of grass. Kamara mainly hung in one spot: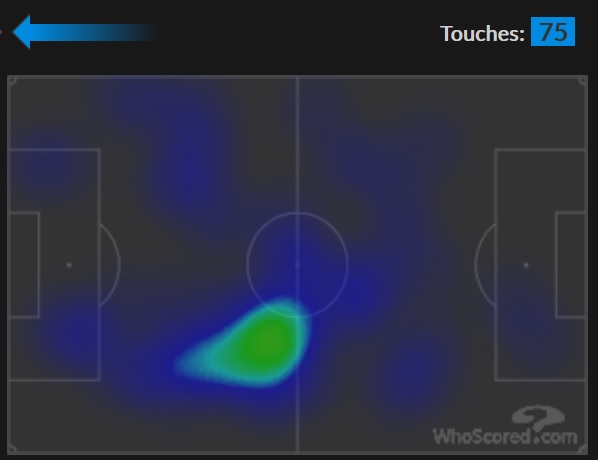 The fact is, this is Gerrard's problem.
When one of our midfielders is just not motivated, and cannot seem to do anything more than jog slowly around the park, and is almost always out of position, this affects all the players around him.
In Kamara's case that, at a minimum, is five different players, who all have to re-align their play, to cover his mistakes.
And at this level of the Europa League that creates a huge hole in our team.
Gerrard should know this, and Gerard should have done something about this a long time ago.
But for some reason this is what he has stuck us with…
It seems there is now zero point recommending Gerrard drops Kamara, until he learns better tactics, and is willing to step up a gear, but given the situation that we find ourselves in, this is my tactical take on Rangers just now.
Patterson clearly has an understanding with Hagi, and together they linked together reasonably well.
So, I would drop Kamara. Put Aribo in Kamara's position, and give Aribo's slot to Patterson.
Aribo has more tactical awareness than Kamara, and Patterson we already know can play a wide midfield role.
Clearly this is just a patch, but just now it would go a long way to repairing the huge hole in our midfield, and it would get Tavernier and Patterson on the pitch together.
However, will Gerrard do this…
No chance.
At the back, sadly Katic is no longer in the team.
And we really do miss his amazing ability to head other players heads, when he went full out to get the ball.
Anyone think Dundee would have had so many free headers if Katic was on the field?
Yep I thought so.
Yes, tactics are important, but sometimes you just need players who can put their body on the line, and just now we have no aerial presence at the back.
At this point a full tactical analysis of Sparta Prague just seems pointless, especially when Dundee could have scored five against us, and Gerrard has glued himself to a midfield that is not functioning together as a unit.
For god's sake, we even had two players booked for time wasting, in the final five minutes, becuase we were so scared of Dundee.
All I can say is be warned.
Sparta Prague play at about the same level as Slavia Praha, and we really will struggle against them if our current midfield is deployed.
They will take advantage of Kamara taking three seconds to decide to pass the ball back to our defenders, especially his delight in passing to defenders who have three opposition strikers around them.
They will take advantage of the holes we create.
And they are good in the air…
However, despite all the criticism I have aimed this week at Kamara, it is still important to say, Kamara is one seriously good football player.
He has shown in some games he could be a fantastic player. His displays at the Euros were stellar.
The fact that he is still making so many mistakes in our shirt is now entirely on the management side, who have clearly not taken the time to teach him how to play more wisely, acutely, and how to use the ball better, reading play around him and knowing who to pass to.
But the fact is, this is all about making Rangers the best football team in Europe, and we just cannot afford to be sentimental, if it means the rest of the team suffers.
Rangers are not a club that can give players three years to any player, to "learn" how to play football.
If we are going to win against Sparta Prague, with Steven Gerrard's blind faith in the current set-up, it is going to take a colossal effort by the rest of the team.
So, Gerrard…this is your call.
The fact is, just now Kamara looks exactly like that £50,000 player we bought from Dundee, and no-one at Rangers seems to cares.
Our worry is Gerrard will only realise he needs to start to make some very hard decisions when it is already far too late to care.
Gerrard, we hope you get this right, because after just another two losses, we will already be out of the Europa League, and perhaps we will also be struggling to win the SPL.
Kamara again produced much of this against Dundee, who are the bottom team for heaven's sake.
Yes, it is only September, but for those who might disagree with our analysis, just have a look at Aberdeen.
They are already out of Europe, and the cup. We at IN do not want to join them.