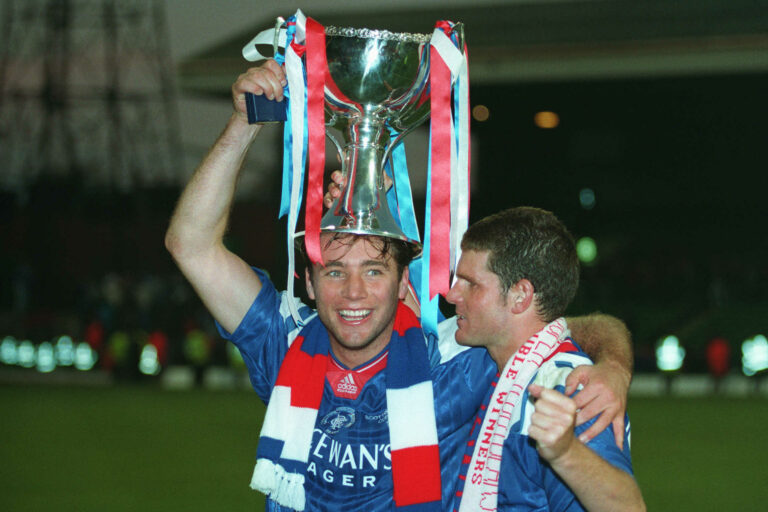 Introduction
Rangers FC is a professional football club based in Glasgow, Scotland. It is a founding member of the Scottish Football League and the Scottish Premier League. The team has had a successful run since 1899 at Ibrox Stadium, which is their home ground.
In total, Rangers FC has clinched 55 Scottish league trophies in its 149-year history. This was mostly due to the efforts of top goalscorers who have nurtured their careers at the club. The following are the Rangers FC top five goalscorers of all time.
1. Ally McCoist: 355 goals
Ally McCoist is among the most celebrated players in the club's history. He emerges top in this list with 355 goals, the fifth most goals in the history of the Scottish Premier League. In his career, McCoist delivered nine consecutive league titles for Rangers FC from 1989 to 1997. He was most talented in penalty box finishes and long-range drives.
2. Bob McPhail: 261 goals
Bob McPhail was Rangers' top goalscorer for more than 50 years, scoring 261 goals. He debuted for the club in an exceptional way when he scored 23 goals in one season and led Rangers to win one of their many titles. In fact, McPhail is one of only four players to have won the Scottish League on six occasions.
3. Jimmy Smith: 249 goals
Rangers FC had some of the greatest players during the wartime period and Jimmy Smith was one of them. An all-round striker, he destroyed opposition defences and notched 249 goals in 259 appearances. Furthermore, Smith scored many hat-tricks at one time netting six goals in a game between Rangers FC and Ayr United.
4. Jimmy Fleming: 220 goals
Jimmy Fleming is Rangers' fourth highest goalscorer with 220 goals. He holds the record for the most goals in one match after he smashed nine goals against Blairgowrie FC in a game that ended 14-2. Fleming was also quite popular with scoring hat-tricks and is among few Scots to have notched 200+ goals in the Scottish league.
5. Derek Johnstone: 210 goals
Derek Johnstone debuted for Rangers in the 1970 Scottish League season when he was just 16 years old. He went on to prove his mettle in a football career that ended with 210 goals in 549 appearances. Johnstone was quite versatile on the field, playing in attack, defence and also midfield for both club and country.
Conclusion
The aforementioned players are the top five goalscorers of all time for Rangers FC. Others include Ralph Brand with 206 goals, Willie Raid with 195 goals and Willie Thornton with 194 goals. In addition, there's also Robert Hamilton and Andy Cunningham with 184 and 182 goals respectively.
Besides nurturing the careers of the aforementioned stars, football has also inspired the development of casino games. Today, you can access and play football-themed Platin casino slots wherever you are with your mobile device. What's more, the games come with conducive betting limits which means any player can join the fun.