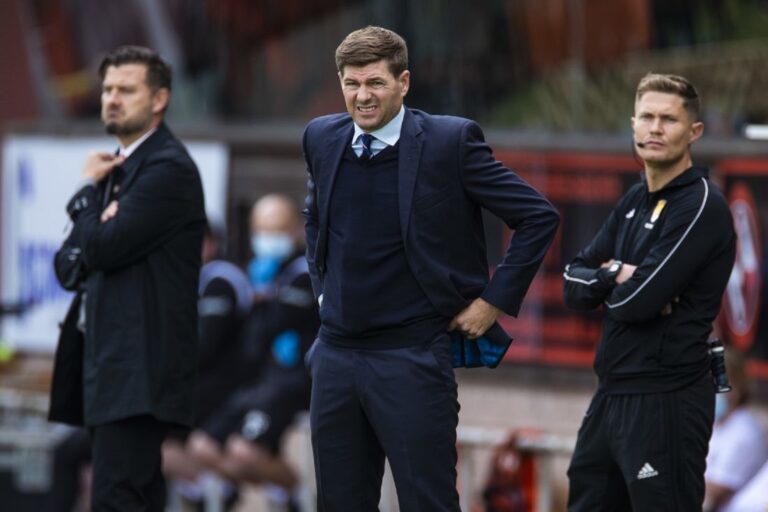 As most Bears are currently doing with their families and friends at the moment, Ibrox Noise is chewing through the wreckage of last night with those in our circle, and one good friend of the site did make a good point or two and coined the title of this article. This piece is dedicated to him and his family through the difficult time they're experiencing.
And their point is dead true, and it's been rearing its ugly head repeatedly since last night.
In truth, Steven Gerrard was cut infinite slack rightly last season because he pulled off the miracle of Govan getting us 55 and stopping 10IAR.
We will never forget that or be fickle and slam him only months after calling him a God in Glasgow. He always will be.
However, as the manager himself has been keen to stress, 55 is history and it's about the here and now, and if it was given as slack last season, that goodwill is over and once again the manager is under fire for not Dropping the Undroppables.
Yes, the likes of James Tavernier, Connor Goldson, Borna Barisic, and Ryan Kent in particular have been painfully AWOL this season, with none of them looking fit, interested or up for the fight.
One comment addressed the Croat, and how he wimped out of some 50/50s last night. If there's one thing we've never been able to label the former Osijek man as, it's courageous. But we're definitely not targeting him – we're addressing the favourites issue.
Stevie loves his favourites, and rarely to never drops them. Despite the fact when he has occasionally done so it's fired them up – look at Ryan Kent – dropped for the trip to Antwerp and came on second half and scored one of the goals of the season. Never looked back after that.
But these are rare. This manager, possibly more than most, has a cast-iron loyalty to a handful of players, and completely reneges on giving rivals a shout instead.
In some positions, the competition notion is moot because the alternative players never get used.
Calvin Bassey, we can't believe the change in the lad, has looked an absolute up-for-it unit in pre-season. A different player. That continued v Livi. But Barisic just took his place back for Malmo, didn't perform, and kept that slot.
And we addressed the Goldson arrogance issue in a previous article after Utd, got absolutely slated for it left right and centre, and all we've heard last night now is how arrogant he is and how everyone wants him dropped!
In short, there's too many players who don't have to earn their place – it's been a common problem under Stevie, and while it didn't cost anything last season (well, we were dire in the cups…) this season it's returned as a huge theme.
Complacent Connor, Toiling Tavernier, Banal Barisic and Quiet Kent. They're by no means the only undroppables who haven't delivered but they are the ones fans are quoting the most.
Gerrard's insistent loyalty to his favourites earned us 55 last season and a fine run in the UEL. But this season it could cost even more.
It's time to show some flexibility Stevie, and faith in ALL the players YOU sign.