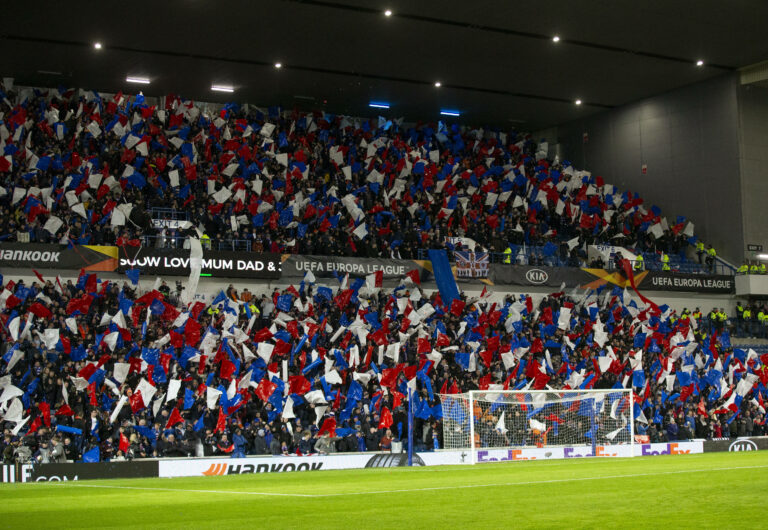 Good afternoon fellow Bears, the moment is nearly upon us, in around 8 hours time, 50,000+ of us will be part of a full-house Ibrox for the first time since 12th March 2020…and it's fair to say it's a tad overdue.
It's our first home game in the Champions League for over a decade and of course, we expect the place to be rocking.
Picture the scene, from the team being announced on the tannoy, that roar as the lads come out the tunnel to Simply The Best making every single hair stand on end, then of course the second roar of anticipation as the whistle goes for kick off.
Now then, before we get too excited, let's at this stage remember our responsibilities. We're fans, yes we've paid our money and we expect a performance and a result to match. Based on the euphoria of last season, expectations are at an all-time high and probably rightly so.
However, what happens if Tav overcooks a cross early doors, Kent passes up a golden opportunity from 3 yards or Davis loses possession inside his own half? Past experience tells us that a fair number of our fans get negative and their frustrations are felt on the pitch by the players.
All of a sudden, there's pressure heaped on top of pressure and what should be a home advantage ends up having the opposite effect. Sure you can say that professional athletes earning x amount per week should be able to handle the pressure, and you would be right. They're only human though and getting on their backs helps nobody.
Stevie G has called upon his 12th man tonight, and that my friends is us, each and every one of us. Just like we wouldn't expect any of the 11 on the pitch to throw their toys out the pram at the first sign of trouble, we can't afford to either. Each and every one of us need to be in full voice, positive and above all, patient. Let's show those players and that manager our gratitude for delivering 55.
I say this, I'm confident that we'll come out firing and that this will be another special, special European night, and hopefully the first of many this season, but I do so with an asterisk which simply reiterates the manager's call to arms – *let's all play our part!