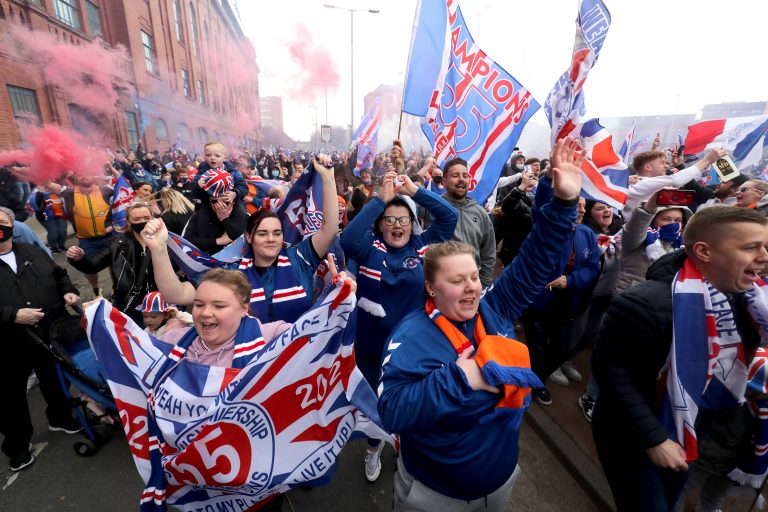 So we have to address the issue of tomorrow's title party… and as excited as we all are for Rangers finally lifting the most deserved and well-earned trophy in recent sport history, we also have to look at the whole 'gathering' issue.
Police Scotland have issued a demand that fans do not congregate outside the stadium for the title, but the reality is while Rangers have endorsed this plea, our extremely sensible and fair manager Steven Gerrard has equally pleaded with the police and government to frankly relax a bit and cut some slack here.
This is a title 10 years in the making, a fanbase who have been through hell and back, and hell again and back again, and the biggest and hardest-earned title in our history is finally here and the police reckon fans shouldn't congregate?
We'll be honest – numbers are waaaaay down, the vaccinations are wide-spread and most crucially of all the conduct we're seeing now from those in authority, those on TV, and events in our country demonstrates clearly that gatherings ARE happening again, with social distancing slowly reducing.
The fact is, while a mass gathering of thousands isn't super ideal, we need to be realistic and sensible, and Gerrard is absolutely right to tell the government to frankly lay off the fans here.
We hope the majority will indeed take decent precautions where possible and carry out any celebrations in a fairly sensible manner, but with us seeing so much normality everywhere else in the UK now, it seems a bit ludicrous to tell fans to stay home and ignore trophy day.
We are not endorsing a mass gathering, but we agree with Stevie – the government has to lay off here, and give this club and its fans a bit of a break.
As long as the line between fun and irresponsibility isn't crossed TOO many times, give the supporters a bit of buffer room please.