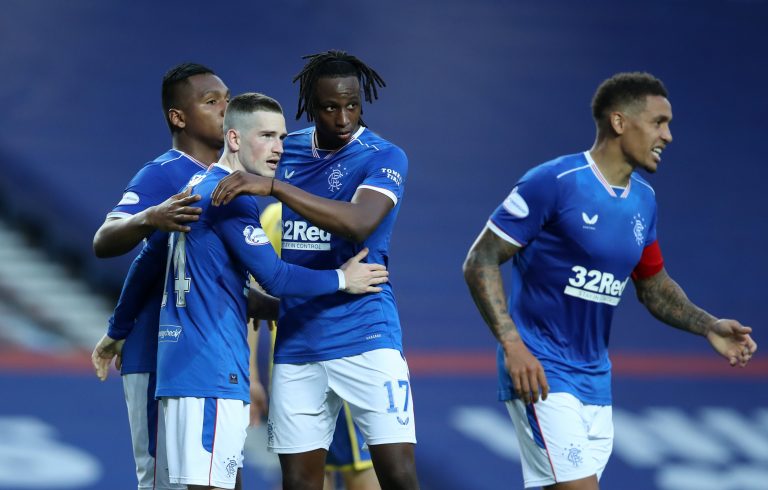 As we know Rangers have four nominations for the POTY award – Tav, Goldson, Davis and McGregor.
But even more interesting is those who didn't even get considered.
As Ibrox Noise regular Jay Mac said, perhaps this season should be a TOTS award, given just how many wonderful performances from players all over the squad there's been, and this piece is for the honourable mentions, the players who didn't quite get the nod but still had great times of it this campaign.
The obvious one is Ryan Kent.
Ally's got him at £30M and word is his deal has a £20M escape clause in it, so the lad is clearly worth a few quid, and this season has been the best of his career by a distance. 50 appearances, 12 goals and 14 assists have seen him completely eclipse last season and finally start looking consistently like the winger he is capable of being.
His August to November and February to present (bit of a lull in mid-November to late January) have been superb, with some absolutely stonking goals and a pile more assists too, Kent in many ways was unfairly overlooked for the nomination, but who makes way? Brilliant season for the attacker.
Then we have Alfredo.
This was a different season for the Colombian – he was much more of a team player, with 'just' 17 goals in 42 outings, as well as 12 assists, and while he wasn't quite as lethal as the incredible season last campaign, he was still very, very good, even if the attitude at times was a little missing. A little inconsistent, but still overall gave a lot and worthy of a mention for sure.
Then there's Glen Kamara.
A season punctuated by the racism scandal, Kamara played a little within his capabilities this season but still excelled – there's a nagging feeling he's saving himself either for the CL next season or for the PL with a new club, because we know how good Kamara is, and this season didn't quite see those levels. He was still very very good though, and his passing level (90.5) shows how consistent and tidy.
Let's not forget Borna.
Sure, he didn't stand out in the way he did last season, but that was his breakthrough campaign with Rangers and we're now used to his level. 14 assists in 50 outings plus a decent 5 goals shows Barisic remains a world class performer who just keeps on contributing to the cause.
Scott Arfield merits a mention.
What a first half of the season he had – dumped early doors, Scotty fought back into the side and became our best player for a period – he was indispensable. Suffered a bit in the second half with injury et al, but Arfield on form remains one of the most invaluable players we have.
Joe Aribo can't be forgotten.
The big Nigerian had a quiet first half of the season, with some glimpses of that brilliant talent, but he neatly tied it all up earlier this year and has been one of the best players in the side in 2021. A fine technical player, he's big, strong, and has made his place his own. He was one of those quite close to being in the nominations.
Lastly…. Ryan Jack.
This guy is an extraordinary talent, an exceptional reader of the game, and there's no coincidence our form dipped with his injury troubles. Jack for the first half of the season was simply outstanding – Rangers' stats with him in the side spoke a story and losing him hurt us. But we'd already done the damage in the league and the UEL. He's not a candidate for POTY due to his time out with injury, but his defensive work and overall graft has been sorely missed.
And to think all 7 of these could have fairly been included in the nominations. This is how strong Rangers were this season.