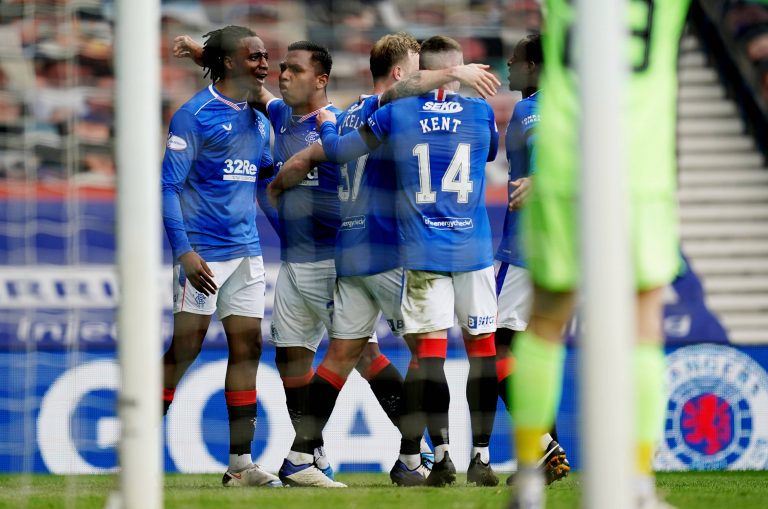 While many are offering man of the match plaudits for today's heroics to titanic goalkeeper Allan McGregor, an honourable mention must go to the stellar Joe Aribo who continues to absolutely blossom in this shirt into a very special player indeed.
We admit it – selecting him on the right and Scotty Arfield in his midfield slot had us deeply concerned – both have struggled in those positions in recent weeks and we were disquieted at why Stevie was trying it again.
We needn't have worried, because Aribo produced maybe his performance of the season, and if it wasn't for a staggering performance from the number one, he'd have been a universal stick on for MOTM here, and not just ours.
Or… at least, a major contender.
We digress.
Unfortunate to give away a penalty, Aribo more than made up for it – two stunning assists, regardless of deflections, made him the most important and effective attacker for the Light Blues, and despite playing 'out of position', he absolutely tore the right wing up and made Diego Laxalt, a Uruguay international, look like an absolute idiot.
So bad, in fact, that interim manager John Kennedy spare him his pain and replaced him at half time with Greg Taylor, just to prevent the bleeding.
Laxalt wasn't so much bad, it was just Aribo was that good – and this was, arguably, and maybe definitively, his best match as a Ranger.
He managed to torment Celtic with ease, and we have to laugh at the know it alls in our support that had him dropped pre-match because he wouldn't 'battle'.
Few Rangers players are in better form right now than Joe Aribo, and while it's taken a while, we're starting to see the talent and technical quality the lad has on a regular basis.
Aribo is a special player, and he's showing it more and more these days.
What a match he had.