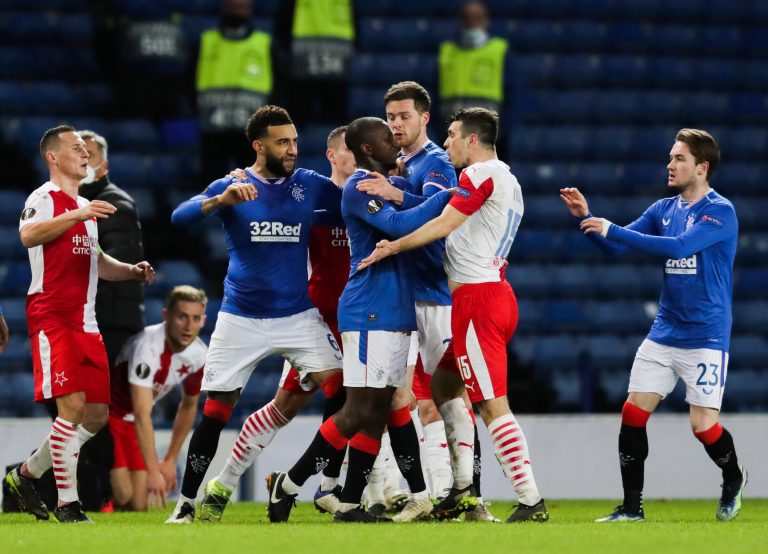 UEFA's latest calamity in the litany of offences Europe's governing body is guilty of has now gone into dangerous territory after using a spurious accusation from Praha defender Ondrej Kudela to charge Glen Kamara with assault.
As we all know, proceedings on the scandal have now (belatedly) begun and Kamara and the Czech are under the spotlight, but it's Rangers' man's reputation being tarnished by this that we can't abide.
At no point, let's be clear, has Ondrej Kudela ever called Glen Kamara a liar. He only denied what he'd been accused of – he denied a racist slur, and claimed he'd said something else.
So not only is Kamara's reputation taking a hit by simply being involved in this shambles, but it's taken a whacking because of Praha's allegations against Rangers' midfielder, and UEFA's charge on him.
Let's be clear again – there is less than no evidence that Kamara assaulted him. If CCTV spectacularly emerges proving he did, we will absolutely condemn our man, because there's no place for violence just like there's no place for racism.
But unless that footage exists, these are just nasty unfounded allegations which are tarring Kamara with an awful brush.
Mud sticks. And this is mudslinging.
Kamara has a wonderful career ahead of him – he's verging on being a world class player, and may well get his move to the PL this summer.
But that is slightly at risk, along with his reputation, not to mention his mental health, as a result of this slander. And of UEFA charging him.
Now, we can only review what evidence there is, and that's the sight of Kudela covering his mouth, the sight of a clutch of black players in outrage, Zunga's claims of what the Czech said, then Connor Goldson's admission that Rangers' entire group waited for Praha to come in the tunnel but they didn't show.
Based on all that, the claims against Kamara are flimsy at best and garbage at worst, but they're hurting his reputation and he's got drawn into an ugly legal battle too.
One we stand by – but that doesn't stop him feeling terrible now.