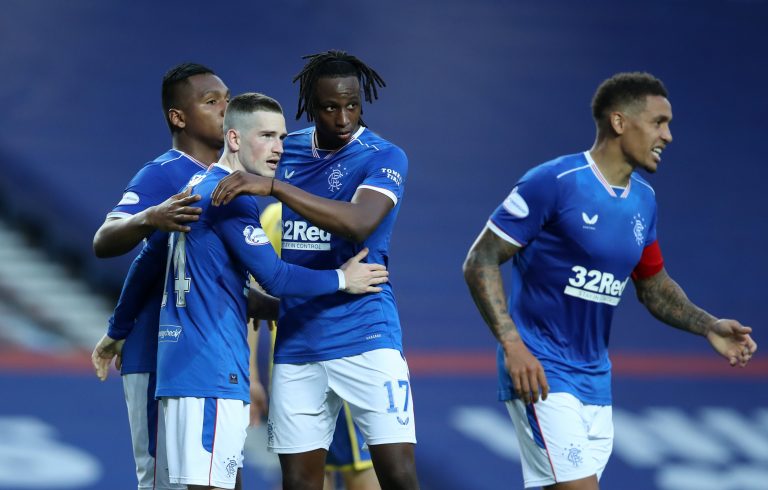 In the 'teammates' series on RTV a lot of the players namedrop Ryan Kent as being the most skilful at Ibrox. And indeed, because he's a speedy winger, it's not an inaccurate summary to have.
However one or two made a compelling case for someone else, and after Rangers posted a skill video of Joe Aribo's glorious touch v Hibs at the weekend, it must be said the Nigerian is often overlooked when it comes to the best and most valuable players at the club, and those most vulnerable to a sale.
Regulars will know we do rate him highly indeed, on both a human level as well as playing, but it wasn't the most dominant of seasons from the ex-Charlton attacker, until something just clicked v Dundee United at Ibrox, and since then, he's looked infinitely more comfortable in his Rangers skin.
Let's be clear – Rangers' shirt is one of the heaviest in the UK to wear – great players have crumped in our shirt, and getting off to a flying start is a rare thing to do.
Joe probably didn't quite manage that, but he's shown tonnes of glimpses over the 20 months he's been here of his skill, his quality, and his capabilities.
And that post from Rangers' Twitter not to mention a few mentions in that teammates series on RTV highlights that while he's not as quick as Ryan Kent, we'd have to say there's a strong case that for pure technical skill, Joe Aribo might be the finest we have.
It's incredible to think he's already at 85 outings for Rangers, in just barely two years. For someone who seemed to kind of be a little on Rangers' fringes, he's sure as heck become an ever-present.
Bids? Probably not – he's not really had a high enough profile to really hit the interest down south, and frankly we're glad of that.
He's certainly on the right track to becoming a £20M player in the future.