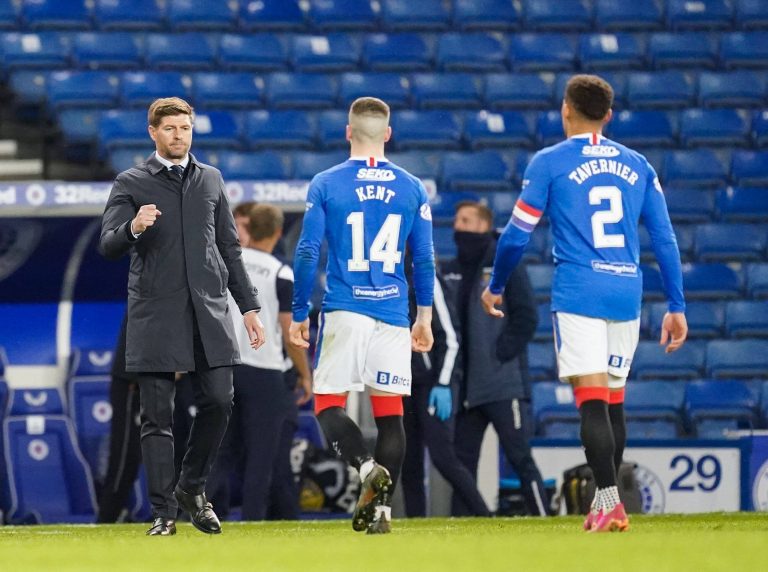 So we've had an evening and a sleep to reflect on Rangers' shock exit at the hands of St Johnstone, the second Saints in a row to surprise Steven Gerrard's men in a cup tournament this season.
The post-mortem is well and truly underway, but let's keep one thing in perspective – 20/21 was ONE HUNDRED PERCENT about winning 55, about finally securing our fifty-fifth title.
That goal was achieved, and was indeed the point of Steven Gerrard's arrival.
We make a huge account for that, and what we say about the rest is with a heavy heart given how superb this season has been league-wise and Europe.
Those with a sensitive disposition of 'snowflake'-itis should look away now to avoid offence….
But… there is no getting away that for God knows what reason, Steven Gerrard has been a terrible Rangers manager in domestic cups.
We can't make reason or rhyme for this, but the squad, whoever they've been, have inexplicably been dumped now out of 6 cup tournaments under Steven Gerrard, and it's hard to quantify that.
Looking at St Mirren, Rangers simply underestimated them – that one was, frankly, most on Steven Gerrard. He disrespected the opposition (a bit like he did on Wednesday) and put out a fringe team – what we got back was a disjointed performance from disparate players and a shock loss.
Against St Johnstone on Wednesday, he selected a fringe team again, learned nothing about his side or the opponent and could only draw.
In the cup quarter, having learned hee haw v Saints the first time, he nevertheless made a big boob in selection by choosing the ultimately invisible Ianis Hagi over the in-form Scott Wright.
But, let's be frank – the team he picked was, mostly, about as strong as he could put out.
And it simply did not play.
No aggression, no pace, no urgency, and no heart.
Steven Gerrard and the management give these players the game plan, but it's the players who have to execute it.
The only execution was Saints of their excellent gameplan – well organised and well drilled, and they were a team who DID learn from Wednesday.
Tonnes in fact.
We have to face reality, as Stevie said in 3 years Rangers have been terrible in the cups, and for some reason we and he indeed simply aren't learning how to win in them.
Sure, we got to a cup final, and played well, but we still lost, and that's the bit that counts.
And breathe….
The easily offended may come back in now.
Because let's remember, we all wanted 55 more than anything, cups and Europe were a bonus.
But given how good 55 was, we should have been capable of more in said cups.
And Stevie and most of the fans know it.
Such is life?