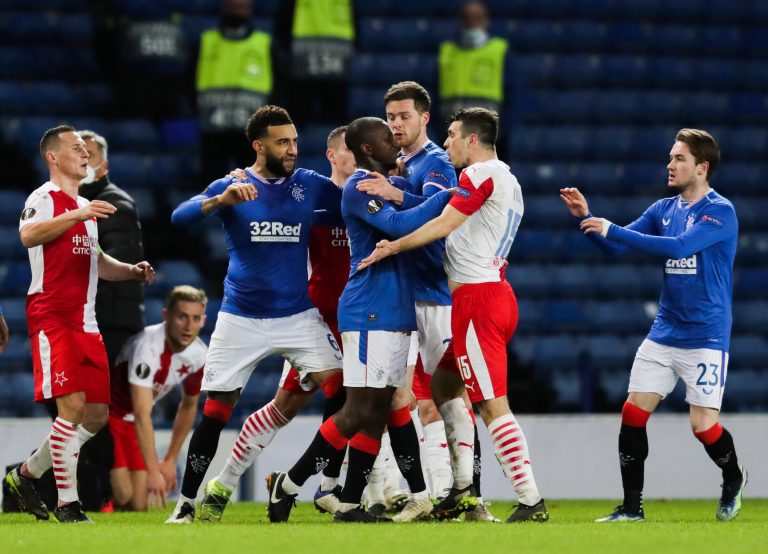 Arsenal's pummelling of Slavia last night was justice served in many ways. While we don't want to get in a self-righteous game of 'who's the goodie and who's the baddie' nevertheless Praha's racist stance and defiance of their crime served to douse their reputation in flames, and Alexandre Lacazette's own defiance of making a statement with his knee right in front of them certainly led to the picture of the night.
But there was more going on last night.
Against Rangers in the first leg 5 black players in Praha colours were involved – ever since what happened at Ibrox the club has reduced the number of black players they use – last night just two, and none got subbed on either.
Remember what we said after the Ibrox leg, that their black players would down tools for them and not fight for the shirt – in recent matches black players at Prague have gained mysterious illness and injury, and few are being selected any more.
Last night only two, compared with the five who took part v Rangers.
Racism has divided their club, and indeed they've only won two of their last five matches.
Ibrox Noise's Greg, a keen follower of Arsenal in his spare time, believes the Gunners were galvanised by Praha's racism scandal, and suggested it was the best they've played in a long long time.
And Lacazette's gesture of defiance was the first time, since Colin Kaepernick originally did it, that we've seen the Knee used right, and it sent out a message of zero tolerance of racism.
Unlike Praha's support of it.
And now the chickens are coming home to roost.
Que sera.